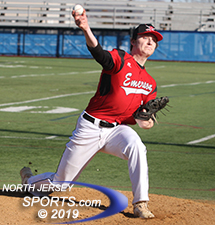 Junior Brendan Pattermann threw a five-inning no-hitter and struck out 8 for Emerson, which opened the season with a 14-0 win at Wood-Ridge on Monday.
WOOD-RIDGE - It's a golden baseball hanging from a thick white chain that Emerson junior Mike Carmosino was wearing as he left the postgame huddle after the Cavos' 14-0 blanking of Wood-Ridge on Opening Day.
"We just started this for the first game and it is called 'The Golden Ball.' Coach [Chris Sommerhalter] wants us to where it to school the next day. We have to take a picture with it and you have to where it all day," said Carmosino. "Someone different is going to get to wear it after each game and today it is me."
Carmosino, Emerson's left-handed swinging designated hitter, earned the right to be the first ever to wear the Golden Ball by going 2-for-3 at the plate with five RBI and a run scored. He hit his first-ever varsity home run in his first ever varsity start, a second-inning grand slam that he pulled over the rightfield fence. That is quite a day, but in a 14-0, five-inning victory in which every hitter in the lineup reached base at least once and with the way junior Brendan Pattermann threw the ball, there was plenty of competition for the daily prize.
Pattermann, the junior right-hander who has already committed to Division 1 Stony Brook University, opened his season with a no-hitter against a Wood-Ridge lineup that is going to be formidable on the Group 1 level. After the first inning in which he issued consecutive two-out walks to Drew Packen and Lucas Leone, Pattermann retired 12 of the final 13 hitters he faced with the only other blemish coming on an error on a pop-up hit by freshman Michael Sarlo, Wood-Ridge's freshman catcher, leading off the bottom of the second inning.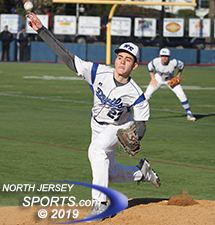 Freshman Nicholas Rizos threw a scoreless inning for Wood-Ridge.
Pattermann struck out the side after that and finished with the impressive pitching line of 5 IP, 0 R, 0 ER, 0 H, 8 K, 2 BB. On a day where the weather conditions made it difficult to find the feel for breaking pitches, Pattermann stuck mostly with fastballs and he had plenty of gas to make that an effective strategy.
"I put in a lot of work in the offseason and everything I did – lifting, working out a lot – was all focused to get ready for today. I visualized everything and last night I said to myself that I was going to throw a no-hitter," said Pattermann. "I want to put myself in the mindset to be mad out there. I throw with a lot of emotion and that is how I like to play. I felt really good starting with my legs and everything was working."
Emerson (1-0) got right to work as Joe Giacalone led off the game with a single and stole second base. Ryan Taub then walked right on front of Pete Durocher, who cracked a three-run homer into the left centerfield gap that goes on forever on the turf at Wood-Ridge High School. A couple of wind-aided errors in which flyballs were not caught put two more Emerson runners on with no outs and, right after Wood-Ridge starter Liam Winslow struck out two hitters in a row, Pattermann (1-for-3, RBI) helped his own cause with a grounds-rule double that took a hop over the rightfield fence.
Emerson sent nine men to the plate in the first inning and scored five runs then did the same in the second inning to make 10-0. The second inning barrage all happened with two outs as the first two hitters of the inning were caught looking at called strike threes. Durocher (1-for-3, HR, 3 RBI, 2 R, SB) got it started by drawing a walk and stealing second and Joe Carmosino (1-for-2, 3 R, RBI, SB, 2 HBP) singled in the run that made it 6-0. Matt Harada (1-for-3, 3 R, RBI) walked and Justin Roa (0-for-1, R, 2 HBP, BB) was hit by a pitch to load the based for Mike Carmosino, who unloaded them with the grand slam that made it 10-0.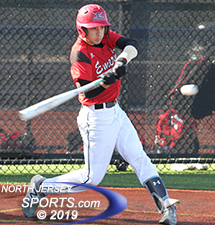 Pete Durocher gave Emerson a 3-0 lead three batters into the game with a first inning home run into the gap.
Emerson score four more times in the third while Pattermann just kept dealing. He set down the final 12 hitters he faced in order and struck out the final two to close out the wind-swept opener. With Pattermann and Joe Carmosino, a senior committed Caldwell University, at the top of its rotation, Emerson has a good a 1-2 pitching punch as can be found on a Group 1 team. There is length in the lineup, a solid combination of power and speed and high expectations, as usual, for the Cavos.
"With Pattermann on the mound we feel like we have a pretty good shot to win any game and with Pete Durocher hitting the first inning three-run homer, an inside-the-parker, and then Mike Carmosino, in his first varsity start as a DH, hitting grand slam with two strikes on him, we came out and swung the bats really well today," said Sommerhalter. "We are lucky. We have Pattermann, who has already committed to a D1 school, and Joe Carmosino, who is going to Caldwell next year, and we are fortunate to have those two arms in our rotation. Those two give us a chance to win every they are out there."
Wood-Ridge, which is coming off a 20-5 season and returns all but one player from that team, will have a chance to win most of the games it plays this year, too, even if they season got off on the wrong foot at home on Monday afternoon.
"The best thing about today's game is that it is over. We had some good approaches with the top of our lineup against the kid Pattermann, but we didn't scratch any hit and once it went in the tank after giving up 10 runs in the first two innings, it was going to be hard to come back from that," said Wood-Ridge head coach Mike Carcich, whose father Bob, the longtime Emerson head coach, joined him in the home dugout for his first-ever game as a Wood-Ridge assistant. "Emerson is a good team, the kid on the mound was great and congratulations to him for throwing a no-hitter. The good thing about baseball is that in two days we play Weehawken, we are at home again and we have a chance to have a better showing."
FOR MORE PHOTOS FROM THIS EVENT PLEASE CLICK HERE. TO BUY A COLLECTOR'S PRINT OF THIS STORY PLEASE VISIT 4-FeetGrafix.com.