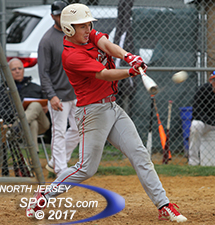 Brian Clarke had two hits and drove in a run and also threw 6 2/3 shutout innings for Whippany Park, which beat Pascack Hills. 3-0, in the Group 2 state semifinals on Tuesday in Belleville.
BELLEVILLE - There were 64 teams in four different brackets when the state tournament started and Whippany Park did not necessarily stand out. The Wildcats were just one game over .500 when they began their postseason run as the No. 9 seed in the North 2, Group 2 bracket and anything other than an opening round blowout loss could have been considered a representative effort.
That is what the numbers said before the tournament began, but a deeper dive into the Whippany Park dugout told a different story.
"We were 10-9 in the regular season, but the whole season we played a lot of good teams on equal terms. We only got blown out twice and every other game that we lost we lost by one run," said Whippany Park head coach Kyle O'Neill. "Our season could have easily been a 15-win season and if that was the case then maybe not that many people would be surprised at where we are now. I know these kids and I are not surprised."
Where Whippany Park was on Tuesday was within the confines of George "Z" Zanfini Municipal Baseball Field behind Belleville High School for a Group 2 state semifinal contest against Pascack Hills. Where the Whippany Park bandwagon is heading next is to Toms River where the Wildcats will play for a Group 2 state championship game after posting a crisply-played 3-0 victory over Pascack Hills.
It unanimous then and Whippany Park, a hot team playing its best baseball of the season, won its fourth consecutive state tournament road game on Friday, 10-5, over Rutherford to claim the North 2, Group 2 title and advance to the Group 2 semifinals where it will play Pascack Hills on Tuesday in Belleville.
From also-ran before the state tournament began to being one of only two Group 2 teams in all of the state left playing, Whippany Park has been on a heckuva ride. Next up is either Governor Livingston or Manasquan, whose game was postponed until Wednesday, in the championship round.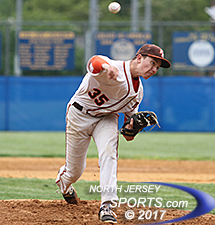 Brandon Siegenthaler threw 4+ quality innings for Pascack Hills.
Whippany Park's formula for postseason success has been obvious as it has a defense that makes few errors, a pitching staff that issues few walks and a lineup that, top to bottom, rarely strikes out. Taking care of the fundamentals so consistently puts pressure on the Wildcats' opponent to play just as clean.
That didn't happen on Tuesday as Pascack Hills made an error that allowed Stephen Tucker, Whippany Park's leadoff hitter, to reach base in the bottom of the first inning and the Wildcats used the opportunity to take the lead for good. A sacrifice bunt by Kyle Dangler, a single by Nick Geroldi that put runners on the corners and then back-to-back RBI singles by Brian Clarke and Kyle Lisa gave Whippany Park the 2-0 lead that stood up for the rest of the game.
"It was huge to get those runs early. It gave us all of the momentum, it got all of our heads into the game and it got the bench up and hyped," said Clarke. "We were ready to go for the rest of the game and we kept our focus right where it needed to be."
After helping to give his team the lead, Clarke's focus turned to throwing strikes and he did it well for six-plus innings. Clarke (6 2/3 IP, 0 R, 0 ER, 3 H, 3 K, 2 BB), a right-hander, had all three of his featured pitches working as he allowed just one hit and two walks through the first six innings. He had lots of help from the seven players behind him, too.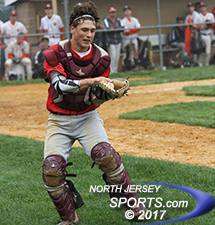 Catcher Mike Roma catching the final out that sent Whippany Park into the state final for the first time since 2010..
Nick Nanarone robbed Pascack Hills of a leadoff baserunner in the top of the second inning with a sliding catch in leftfield and when the Cowboys did get their first leadoff hitter aboard in the top of the fourth, the defense came through again. Julian Bulzomi walked and went to second on a wild pitch before Christian Piantino chopped one over the mound for what looked like it was going to be an infield hit that would have put runners on the corners with no outs.
Instead, Lisa, WP shortstop charged the ball and fired to third where a close play was called in Whippany Park's favor for the first out. The next hitter bounced into a quickly turned 6-4-3 double play with Dangler making the pivot under duress. Pascack Hills' rally ended just like that and Clarke faced the minimum three hitters instead.
"The call at third kind of took a lot of the life out of us," said Pascack Hills head coach Kevin Kirkby. "I didn't agree with the call, but that is the way the game went today. They made the plays, we didn't. They took advantage of the conditions and we didn't."
The conditions, with heavy air and no wind helping, with muddy base paths that cut down on the running game and with high-cut infield and outfield grass; it was a base by base affair that made big innings tough to come by. The only other run scored in the game came through Whippany Park's persistence. Mike Roma hit a one-out single, but was thrown out trying to steal during Nanarone's at bat in which he was unable to get a sacrifice bunt down. With two strikes on him, however, Nanarone hit what turned into a swinging bunt single, he stole second to get himself in scoring position and then scored on Tucker's two-out single down the rightfield line.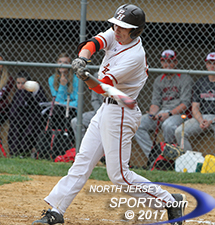 Senior Christian Piantino had one of five hits for Pascack Hills, which ended its season with a 21-9 record.
Brandon Siegenthaler (4+ IP, 3 R, 2 ER, 4 K, BB) turned in a quality start for Pascack Hills and Ryan Ramsey (2 IP, 0 R, 0 ER, 1 H, 3 K, 0 BB) followed him with two innings of shutout relief, but the Cowboys' offense slogged through the first six innings with just five baserunners. There was hope for a late rally as Piantino led off the top of the seven with a clean single, PH's first since Marc Hernandez's two-out single in the second, and Mike Rodriguez followed with a single to right that put two on with no outs.
Clarke rebounded to get a strikeout and a harmless flyball to left and then, with a 1-0 count on the final batter of the game, Lisa was called in from shortstop to get the final out. He did as Roma, the catcher, sprung out from behind the plate to grab a pop-up in foul ground to send Whippany Park (15-9) on to the state final for the first time since 2010 when it was in Group 1 and beat Emerson in the state semifinals.
"I saw that pop-up and I was thinking, 'Should I let the pitcher get it? Or should I just grab it?' I ended up just grabbing it and it was just a great experience to get the last out knowing we are going [to the state final]," said Roma. "Everyone thought this was possible. As soon as the playoffs started we all just got pumped up, we started getting hits, we just started rolling and we haven't stopped yet."
Pascack Hills saw its outstanding season come to an end with a 21-9 record. The Cowboys qualified for the Bergen County Tournament, won their first state sectional title since 2006 and did it with four sophomores in the starting lineup. This could be just the start of a sustained run of success for Pascack Hills.
"We are going to miss our seniors and we will have some holes to fill. We have a couple of guys that have been starting for four years and it was a great year. We won a section title and these kids worked their butts off all year. I am proud of them," said Kirkby. "We have a lot to look forward to. We have a lot of talent coming back next year."