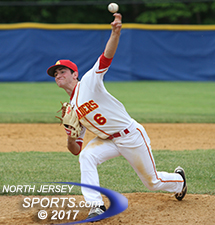 Chris Gerard ran his Bergen County tournament scoreless inning streak to 14 with a 5-hit, complete game shutout in Bergen Catholic's 6-0 win over River Dell in the semifinals on Saturday.
DEMAREST - The Saturdays of Memorial Day weekend have been days of celebration for the Bergen Catholic baseball team for each of the last three years now. It is the Sunday part that the Crusaders are hoping to enjoy this time around. With its 6-0 win over River Dell on this particular Saturday, Bergen Catholic won its way into the Bergen County Tournament final for the third straight year while still searching for its first county championship not only in this recent run of success, but also the first for the program since 1999.
"There is no pressure on us, but we have gotten here [to the finals] twice and both times we watched the other guys celebrate the last two years," said Bob Muggeo, who has now led his team to county championship game in each of his three seasons as Bergen Catholic's head coach. "When the season started I felt like we had a team that could be playing on this weekend. I am blessed with a lot of talented players. It is making sure that we get them all playing together and making sure I don't screw it all up."
Maggeo has had a 'screw up' proof plan for each of his team's two most recent tournament wins. Last Saturday senior Chris Gerard threw a complete game, three-hit shutout in a quarterfinal win over Northern Valley/Old Tappan and on Saturday he was just as sharp. Gerard, a left-hander who will play at the University of Maryland next season, went the distance again, this time on a five-hit shutout that gave him 14 straight scoreless innings in this year's tournament. Gerard struck out seven, walked just two and needed just 88 pitches to go the route.
"I was just excited for the opportunity. It is just fun to pitch in the county tournament and I was ready to go," said Gerard. "In the beginning my fastball was up, but I adjusted and got it down in the zone and the rest of my pitches were working well."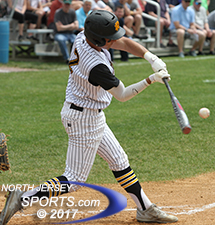 Nick Covo had one of River Dell's five hits and was robbed of another.
Up against River Dell starter Aidan Tucker, who was a part of the Bergen Catholic program last year, the Crusaders missed out on chances to break through in each of the first two innings when they left the bases loaded each time. They were on the verge of wasting another chance in the bottom of the third before Evan Bergman knocked one through the right side for a two-out, two-run single that gave BC the lead for good.
"We had bases loaded in the first two innings and didn't score and we had two runners in scoring position with two outs in the third. I knew I had to do something positive," said Bergman, BC's junior first baseman, who was a teammate of Tucker's on last season's JV team. "I got deep in the count and I knew he was going to come with a curveball. I drove it the other way and got two runs in and we picked it up from there."
River Dell, the only public school to make the tournament semifinals in each of the last two seasons, just could not get any offense going against Gerard, who continually pounded the strike zone. The Golden Hawks' best chance to score was probably in the top of the first inning when Garrett deMarrais drew a one-out walk and moved up a base on a groundball before Tucker singled through the right side with two outs. Had deMarrais been waved home it would probably have been a close play at the plate, but he was held at third and then Bergen Catholic right fielder Bryan Hallenbeck robbed the Hawks of a sure run when he picked off Nick Covo's line drive in full sprint to his right.
Hallenbeck (3-for-4, HR, RBI, 2R) also got the Crusaders' third inning rally started with a one-out single, he scored the Crusaders' first run and homered to leftfield leading off the bottom of the fifth when Bergen Catholic scored its other four runs. Not bad for a senior who hardly figured into this season's plans after being injured during the ice hockey season.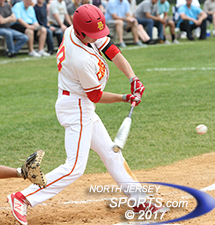 Evan Bergman had the two-out, two-run single in the third inning that gave Bergen Catholic the lead for good.
"Last year he was our closer, but he had broken his wrist in hockey, so he really didn't take any reps either on the hill or as a hitter. About two weeks ago he we had an intra-squad [scrimmage] and he had a couple of good swings, we had him in for Senior Day and he had a couple of good swings and, all of a sudden, he was batting No. 5 today," said Muggeo. "He probably doesn't have 20 at bats for the season. It's kind of a nice story from our perspective; a hockey player with no winter workouts, nothing and he is probably going to start in right field again tomorrow."
Rob Cappadonna knocked in Bergen Catholic's fourth run with a bloop single and an error on a hard-hit groundball by Gerard allowed the Crusaders to add two unearned runs. In addition to his complete game shutout on the mound, Gerard also went 3-for-4 at the plate.
It was a rough couple of days for River Dell, which saw its promising season come to an abrupt halt in the span of less than 24 hours. The Hawks (21-6) let a 7-0 lead slip away in an 11-7 loss to Morris Hills in the North 1, Group 3 state sectional quarterfinals on Friday and then had their county tournament run come to a close on the same field behind Northern Valley/Demarest High School.
"My guys can walk out of here with their heads up. We knew we were in a tough spot today and that Tuck[er] had to give us everything he could and he left it all out there. You have to give him credit. He battled, we just didn't score any runs for him," said River Dell head coach Brandon Flanagan. "I am losing some great seniors. This group has been around for 65 or 70 wins for the last three years, so they deserved to be here today. Right now on the last bus ride I am going to tell them how proud I am of them, we will have some fun and keep it loose."