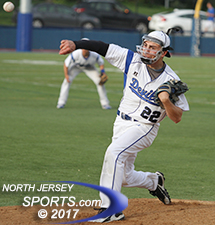 Two days after being hit in the face by a pitched ball, Anthony Trano put on a mask and picked up the win with 2 1/3 innings of scoreless relief as Wood-Ridge outlasted Verona, 2-1 in 10 innings in the North 1, Group 1 state sectional quarterfinals on Wednesday.
WOOD RIDGE – On Monday night in the opening round of the North 1, Group 1 state sectional tournament, Anthony Trano experienced the highs and lows of the game of baseball all within the span of a couple of innings. He hit a grand slam in the Blue Devils' 8-3 win over Bogota and, a couple of innings later, disaster struck. Squared around to bunt, a fastball kept riding up and in, it ticked off his bat, hit him flush in the face and shattered his nose.
Better to let him describe the roughly 45 hours or so between the time he took one in the chops to when he turned his hat backwards, pulled on a bulky plastic mask and took his spot as the starting second baseman and No. 5 hitter for Wednesday's state sectional quarterfinal against Verona.
"It was terrible. I was in the hospital for about 15 hours and I haven't really slept yet since I got hit. The stuff they put up my nose was insane and they just took everything out about three hours before this game started," said Trano. "Playing with a mask is tough because when I bent over to field a groundball I couldn't even see the ball. It's kind of a total mess."
Anthony Trano is one tough kid.
Not only did he pick himself up and get himself right back in the starting lineup, but he also played a major role in the deciding the outcome of a playoff classic, a 10-inning marathon that had a little bit of everything even though the two teams combined for just 11 hits. The starting pitchers were dominant with Verona's Collin Kiernan putting on a show only to be matched, by Wood-Ridge's Nick Pronti.
Attempting to steal home in a close game is now all the rage in state playoff baseball as it yielded a run for the second straight day and a sleep-deprived senior with a broken nose wearing a bulky plastic mask was also the winning pitcher as Trano threw two-and-a-third innings of scoreless relief. When it was all over, more than three hours after the first pitch was thrown, Wood-Ridge, the top seed, pulled off another wild win on its beloved home turf, a 2-1 victory that sends the Blue Devils into Tuesday's semifinal round against either Emerson or Cedar Grove.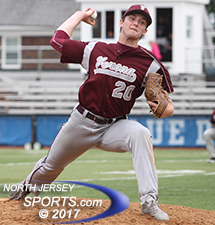 Verona starter Collin Kiernan struck out 18 of the 25 hitters he faced in 6 1/3 dominant innings.
Up against Kiernan, a Rutgers recruit with a devastating slider and knuckle curve to go along with a high 80s even low 90s fastball, Wood-Ridge was not going to be able to hit its way to the semifinals. Forget about stringing hits together, the Blue Devils had trouble even putting the ball in play. How dominant was Kiernan, the senior right-hander? Before being done in by the pitch count rule with one out in the bottom of the seventh, Kiernan (6 1/3 IP, 1 R, 0 ER, 2 H, 18 K, 3 BB) faced 25 batters and struck out 18 of them. He gave up just two hits, a first inning two-out single by Shian Tanaka and an infield single by freshman Liam Winslow, who beat the play at first base by a step with two outs in the fourth.
But Wood-Ridge has its own ace and Pronti (7 2/3 IP, 1 R, 1 ER, 6 H, 8 K, 1 BB) was up to the challenge. The senior right-hander who will play at Wilkes University next year allowed just three hits and a walk through his first five innings.
It was not until the top of the fifth that either team looked close to breaking through. Pronti hit Gabe Quagliata with a pitch with one out before Kiernan singled and Sal Vasallo reached on an error to load the bases. Pronti struck out the next two hitters to end the threat and he K'd the leadoff batter in the bottom of the sixth before Verona finally pieced together a rally. Nick Zamaloot and Steve Priscoe hit back-to-back singles to put runners on the corners and Wade Kistner then singled back through the box to give the Hillbillies a 1-0 lead.
With just six outs left in its season and up against one of the best pitchers in the state, Wood-Ridge pulled out all of the stops in all out attempt to get even. Throughout the course of the game, no trick was left in the bag.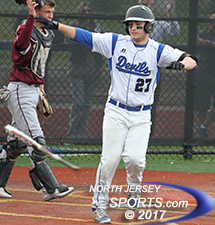 Christian Leone after drawing the game-ending walk with the bases loaded in the bottom of the 10th inning.
"We went full Little League. When we were taking pitches we were going to show bunt and we were going to use that to try to fake-bunt/steal when we needed to and try to drive them a little crazy," said Wood-Ridge head coach Michael Carcich. "We had three or four hitters that we let go up there to swing at a first pitch fastballs, everybody else was looking to take and we were taking a strike when we got ahead. The key was to try to drive [Kiernan] from the game and try to win it late."
The last part of the strategy would happen eventually, but first the Blue Devils had to find a way to get even with Kiernan still dealing. He struck out the side four times and showed no signs of fatigue when he struck out all four hitters he faced in the bottom of the six, the same inning that Wood-Ridge found a way to tie it.
Tanaka swung at a biting curveball that was so good that it bounced away and up the third base line and, for the first time in the game, Wood-Ridge got its leadoff batter on base. Kiernan struck out the next two hitters, but in the process, Tanaka stole second and third base. With Winslow at the plate and a precedent set on Tuesday when Pascack Hills' Billy Siegenthaler took off on a straight steal of home in a scoreless state playoff game against Demarest, Carcich sent Tanaka on a similar journey and attained the exact same result.
Tanaka would have been out by plenty, but it didn't matter because Kiernan was called for a balk and the play at the plate was null and void as Wood-Ridge tied the game.
"I called about six or seven coaches asking for anything that might help us because we knew we were facing Collin Kiernan. I talked to my dad [former Emerson head coach and current Bergen Catholic assistant Bob Carcich] and he told me how he once stole a run at home by making a kid balk. I talked to [Demarest assistant coach] Derek Talty yesterday and he told me that Kevin Kirkby from Pascack Hills ran it and won a game, so I called Kirkby to pick his brain on it," said Carcich. "Obviously the kid Collin Kiernan is a stud and I give him a lot of credit. We couldn't get bunts down, which we were trying to do, we weren't putting the bat on the ball, which we were trying to do, so I had to take a risk. It's funny that I put that play in today before the game and it wound up saving us from a loss."
With the game tied all focus then turned to the pitch count for each starter. Kiernan had a 106 total after six innings which meant he got to face one hitter in the bottom of the seven and, fittingly, he struck him out before handing the ball to Anthony Zamaloot, who continued the trend by striking out the next two hitters to force extra innings.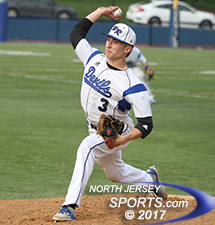 Nick Pronti threw 7 2/3 innings of 6-hit, 1-run baseball for Wood-Ridge, which will play either Emerson or Cedar Grove in the semifinals on Tuesday.
Pronti's pitch total was at 103 heading into the top of the eighth and he got the first two batters out before Trano took over, got the final out and worked a 1-2-3 ninth. Trano then led off the bottom of the ninth with a clean single, Wood-Ridge's first hit since Winslow's five innings earlier. Winslow then got down a bunt and was safe at first on a throwing error, but Trano's courtesy runner was cut down trying to go first to third on the play.
Nick Dinato drew a walk to bring up Jack Barteck and he stroked what was almost the game-winning single to left field, but on the turf the ball got to Steve Priscoe quickly and the Verona leftfielder threw a strike to the plate, which Kistner had blocked. Winslow was tagged out by the slimmest of margins and the game moved to the 10th.
Trano gave up a leadoff hit, a sizzling line drive back up the middle by Sal Vasallo that was too close for comfort as it whizzed by the already broken nose, and a one out walk, but got the next two outs to keep the game tied and the Blue Devils won it, albeit in anticlimactic fashion, in the bottom of the inning.
Pronti drew a leadoff walk and Mike Gianscaspro got down a bunt. Instead of taking the sure out at first, Verona went for the lead runner and missed and, after a wild pitch moved both runners up a base, Tanaka was intentionally walked to load the bases with nobody out. That brought up Christian Leone, who took four straight pitches, all balls, to earn the game-ending, game-winning, season-saving, walk-off...walk.
"This was probably one of the worst games of my baseball career in my entire life. I had four Ks in my first four at bats, so I was going up there just trying not to strike out. With bases loaded no out, it is almost impossible not to score if you put the bat on the ball," said Leone. "I was just looking to put the ball in play, draw a walk, something positive to win the game. Luckily, I drew the walk and we won."