Sunday, June 7, 2015
By Rich Barton
NJS.com Staff Writer
It got dicey at the end, but Emerson held on for a 3-1 win over Middlesex to clinch the Group 1 state championship, the program's first since 2001.
TOMS RIVER – Even though they were playing in the biggest game of their lives, Emerson's Chris Nedilsky and his teammates had no reason to be nervous through the first six innings of Saturday's Group 1 state final against upstart Middlesex. Nedilsky had all of his pitches working and the Cavos had enough offense to grab a three-run lead. Then out of nowhere, things got very dicey, very fast.
Before the Cavos knew what hit them, Middlesex had the tying run in scoring position and the go-ahead run on first. It was the kind of pressure situation that could lead to an 'El Foldo' in a game with so much riding on the outcome. Not Emerson, not this this senior-laden squad that has grown up together and only saw one ending to this long journey.
Second baseman Frank Manning made a nice backhanded play and flipped to shortstop Anthony Laureno for the final out of the game as Emerson won its first Group 1 state title since 2001 with a 3-1 victory over Middlesex at Toms River East High School.
"All year we've made big plays when we needed to and we did it again today," said Emerson senior catcher Patrick Dunn. "We had a good gameplan coming and we stuck to it. To go out like this as a senior with a great group of guys and a great coaching staff, I couldn't imagine it ending in a better way than this."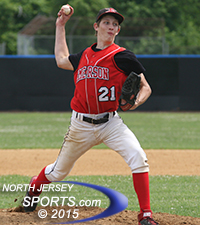 Chris Nedilsky allowed 6 hits, walked 1, and struckout 7 to pick up the complete game win for Emerson, which won 23 of its final 25 games.
Emerson had consistently jumped on opponents early throughout the state tournament and the Cavos did so again, but in a more unconventional way this time around. Jon Juri worked a two-out walk and nearly got picked off on a by Middlesex southpaw Tristan O'Connor, who has a tricky move to first base. Juri was dead to rights at second base, but the throw was high and the inning was extended. Matt Durocher made it hurt with a line drive single up the middle to bring Juri home for a quick 1-0 lead.
Middlesex threatened in the top of the third highlighted by an entertaining exchange between Nedilsky and leadoff speedster Tony DeNizo. Nedilsky threw over to first base six times and nearly picked DeNizo off on three of those occasions. But the call each time was safe and DeNizo eventually stole second. Then after another long battle, this time at the plate with Stewart Lester, Nedilsky won it by inducing a groundball to Laureno at short to end the threat.

The Blue Jays put runners on first and second in the fourth but Nedilsky wiggled out of trouble again. He got a lazy fly ball then froze Tyler Dymond on a curveball over the outside corner for a called third strike to end the inning.
In the bottom of the fourth, Jake Leara led off with a single before moving to second base on a sac bunt by Anthony Scozzafava. Nedilsky's battery mate then gave him some run support as Dunn roped a fastball to the fence in right to bring home Leara for a 2-0 lead.
The Cavos tacked on another run in the fifth with Juri once again being the centerpiece of an errant pickoff play with two outs. After Juri's double, O'Connor wheeled around with a pickoff attempt, but the throw went into centerfield. As Juri slid into third the throw from center sailed into the Emerson dugout, allowing Juri to score to make it 3-0.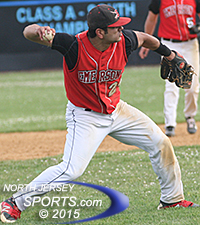 Jon Juri scored two of emerson's three runs by being aggressive on the basepaths.
It remained that way until the Blue Jays rallied in their last at-bat. After Nedilsky got a quick out, No. 9 batter Josh Palazzi ripped a full-count fastball into the left-centerfield gap to start the rally. After DeNizo reached on an error, Lester lined a single to load the bases with the heart of the Blue Jays' order coming up. Then, on what was a possible double-play ball to end the game, an error allowed Palazzi to score to cut the lead to 3-1 with the bases still loaded and just one out.
It was a crisis moment for the Cavos and Nedilsky never wavered.
"We've been in pressure situations before and we're always there for one another," said Nedilsky. "We're more like a family than we're like a team. They have my back and I have theirs. It's always positive feedback, even after we make a mistake. That really helps us stay loose and play our game. When you get to a state final, you're on your toes the whole game. Every run is important, every at-bat is important, every pitch is important. To be a leader on this team, I had to stay calm and worry about the next batter."
Nedilsky showed no signs of slowing down by striking out Middlesex's dangerous cleanup batter Matt Carovillano on three pitches capped by a called third strike on another curveball over the outside corner. Dom Lamposana had a chance to tie the game with a hard-hit groundball up the middle. Manning got a good jump on the ball and made a backhanded play before flipping to Laureno at second base to get the forceout as Emerson ended a 14-year drought with the fourth state title in school history.
Nedilsky allowed six hits, walked one, and struckout seven to pick up the complete game win for Emerson (26-5). O'Connor allowed five hits, two earned runs with one walk and eight strikeouts for Middlesex (17-17). Lester was the only player for either team to record two hits.
When Chris Sommerhalter took over as a first-year head coach for one of the all-time Bergen County legends in Bob Carcich, there were plenty of question marks on how team would respond to a new voice. Even after a 3-3 start to the season, Sommerhalter knew that this team had the potential to make a deep run in the state tournament.
To rip off 23 wins in the final 25 games and hoist the trophy as Group 1 state champs is something Sommerhalter envisioned when he took the job. To have it happen so quickly was only an added bonus to what was an already rewarding season.
"We got off to a rough start this season, but nothing gets to these kids and that poise got us here today," said Sommerhalter. "When we beat bigger schools like River Dell and Demarest, we felt like we had a shot to make some noise in the states. This team had a football mentality throughout the season and especially in the state tournament. It's a mentality that we embraced and the hard work we put it all paid off in the end."
CLICK HERE FOR MORE PHOTOS FROM THIS GAME. TO BUY A COLLECTOR'S PRINT OF THIS STORY, PLEASE VISIT 4FeetGrafix.com.