Friday, May 28, 2011
By Rich Barton
NJS.com Staff Writer
The valedictorian of the Wood-Ridge Class of 2011, Dan Sartori can also play a little baseball, driving in three runs as the Blue Devils advanced to the North 1, Group 1 state sectional semfinals with an 11-1, five inning win over 14th seeded Leonia.
WOOD-RIDGE – After spending three lackluster seasons in the Wood-Ridge baseball program, the only senior on this year's roster, Dan Sartori, could have come up with a million reasons to quit the team. With a new head coach in place and a new system, Sartori could have used that as an excuse to start his summer vacation a couple of months early.
When the Blue Devils lost their first two games of the season by a combined score of 31-7, those feelings could have been magnified. Not for Sartori though; instead, he used that as motivation to become a leader and set an example for the younger players with the hopes that his team could end the season much better than it started.
Thanks to Sartori's bat and the right arm of Joe Barbiera, the Blue Devils are where few outside of their dugout fathomed they would be on this late date.
Sartori stroked a run-scoring double in the fourth, then a two-run double in the fifth to break the game open. Barbiera did not need it though as he tossed his first varsity no-hitter to lift 11th seeded Wood-Ridge into the North 1, Group 1 state sectional semifinals with an 11-1, five-inning win over Leonia, the No. 14 seed, on Friday at Wood-Ridge High School.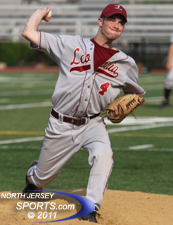 Kyle Beldoch took the start for Leonia, the No. 14 seed that finished the season at 7-12.
"We're playing with a lot of confidence right now and we just have that attitude that we have nothing to lose," said Barbiera. "I am obviously happy to throw a no-hitter, but I didn't even really realize it until the fifth inning. I knew if I didn't walk too many people that we would be fine, because we've been swinging the bats pretty well lately."
Barbiera helped his own cause in the bottom of the second inning with an RBI double, then a balk brought home another run to put Wood-Ridge ahead, 2-0.
The Lions did not get a hit on the afternoon, but were able to scratch a run across in the top of the third. Javier Urena drove in the run by beating out a double-play ground ball to cut the lead to 2-1.
After George DeCesare reached on an error, Sartori made the Lions pay for it. The 2011 Wood-Ridge valedictorian used his brain to pick up a tell and went with an outside fastball for an RBI ground-rule double to make it 3-1.
"I try to pick little patterns on an opposing pitcher whenever I can and I got a little something from my first at-bat," said Sartori, who is headed to Seton Hall on an academic scholarship. "My first time up, I heard the Leonia coach call out 'red, orange' and a bunch of numbers and I grounded out on a fastball. So my second time up, I heard 'red, gold' and the same numbers, so I figured a fastball was coming and I got a good one over the outside part of the plate."
The score was 4-1 going into the bottom of the fifth before the Blue Devils erupted for seven runs to invoke the mercy rule. Sartori slugged a two-run double to break the game open and chase Leonia (7-12) starter Kyle Beldoch. Wood-Ridge first baseman Carlo Autino followed suit in a big way. The lefty batter clouted a towering three-run blast that cleared the right-field fence, the bleachers, and the street behind the field. Mike Gibney capped the scoring with an RBI single that ended the game and preserved Barbiera's no-hitter.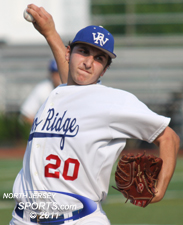 Wood-Ridge sophomore Joe Barbiera threw a five-inning no-hitter to pick up his second win of the state tournament.
Barbiera, a sophomore right-hander, walked three and struck out three to pick up his fifth win of the year and his second of the state tournament for Wood-Ridge (14-13). Autino drove in four runs while Sartori knocked in three for the Blue Devils, who reached their first section semifinal in decades.
Wood-Ridge will look to keep its surprising state tourney run going on Monday when they travel to face second-seeded Waldwick. For a team that had not won more than eight games or a state tournament game in any of the previous three seasons, yesterday's win marks a huge milestone for a program that, with eight returning players for next year, is clearly on the rise.
"I have to admit that the last three years have been tough to go through, but it's all paying off now," added Sartori. "We knew there would be an adjustment period and there was early on. But we're so focused and so locked in right now that we feel we have a chance to win every time we step on the field. This run we've been on lately is the most fun I've ever had on the baseball field and we want to keep it alive as long as we possibly can."
While leadership often comes on the diamond in the form of numerous seniors who have been through the fire, Wood-Ridge's first-year head coach Mike Carcich needed just one in Sartori.
"For a kid like Dan Sartori to stick with the program after some tough years shows what kind of heart he has and that's exactly what this team needed," said Carcich. "He has a blue-collar mentality and a positive attitude that the kids feed off of. We're trying to build a program and we're taking bigger steps as the season goes on. If I had 10 kids who are like Dan Sartori, we would be contenders for championships every single year, which is exactly what we're striving for."
FOR MORE PHOTOS OF THIS EVENT OR TO BUY A COLLECTOR'S PRINT OF THIS GAME STORY, PLEASE VISIT 4FeetGrafix.com.