Sunday, May 23, 2010
By Cory K. Doviak
NJS.com Editorial Director
Not a bad day for senior Tim Swatek, who threw a complete game 6-hitter and hit the game-winning 3-run homer in the top of the seventh inning of Hackensack's 4-3 win over Paramus in the Bergen County quarterfinals.
EMERSON – Senior leadership. It is talked about all the time and it is coveted by every high school coach in any sport. But while it is irreplaceable, senior leadership is also hard to quantify because it doesn't show up on the stat sheet or in the scorebook. But it was easy to spot on Saturday in the Bergen County Baseball Tournament quarterfinals, in fact it was plain as day as Hackensack came up for its final at bat trailing Paramus by a run with three seniors, all three left handed hitters, set up right in a row.
The first senior was Andrew Kendel and he collected his third hit of the game, a lead-off single that not only gave Hackensack a baserunner, but also got the Comets into the Paramus bullpen as its starter, Mike Epstein, a southpaw himself, was lifted after throwing 106 mostly effective pitches. The next senior to bat was Vincent Triosi and he singled to right field to put two runners on and bring the third senior, Timothy Swatek to the plate as the potential winning run.
And he explained his at bat this way: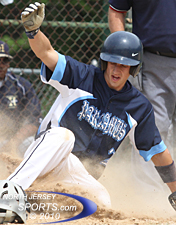 Brian Criscione sliding in with a fourth inning run that gave Paramus a 2-1 advantage.
"I think [Paramus reliever Joe Szurintini] came with a first pitch change-up, which I took because I had never seen him before and I wanted to see if he could get ahead. Then he threw a fastball away and another one inside, which was a hittable pitch, but I took," said Swatek. "On 1-2 he threw me a change up and I just saw it out of his hand. I just kind of laid back and poked it."
Poked it he did and when it landed, well beyond the high fence in straight away centerfield, Hackensack had a one-run lead and was just three outs away from its first appearance in the Bergen County Tournament semifinals since 1999. Swatek got those too as he finished off his complete-game gem and 10th-seeded Hackensack's 4-3 upset of No. 2 Paramus at Emerson High School.
"We were talking about it in the dugout that it would be nice if we could get the first two runners on [in the top of the seventh inning] and then let Swatek swing from the heels. It happened and he connected," said Hackensack head coach Gerard Carroll. "This is a group of seniors that just don't want this season to end. And that is what really came out, heart and desire by these seniors to get the job done and keep playing."
Paramus has a deep group of seniors as well and one of them, Epstein, did his best to get his team across the finish line. He should have been unscored upon through the first six innings, but found himself trailing 1-0 in the top of the first inning when a can-of-corn fly ball was dropped with two outs and allowed Troisi to come home with the game's first run, an unearned tally.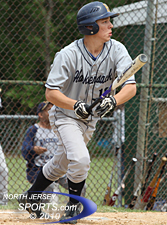 Andrew Kendel's third hit of the game, a lead off single in the top of the seventh, got Hackensack's game-winning rally started.
Playing from behind with Swatek on the mound was not exactly where the Spartans wanted to be, but they built a run in the second to get back even. Chris Covello led off with an infield single, moved to second on Brian Criscione's sacrifice bunt and scored from there on Mike Sells' single. The perfect hit-and-run where Zach Oliff slapped a single through the vacated shortstop hole put runners on the corners with one out, but Swatek struck out the next two hitters to keep the game even at 1.
Paramus took the lead in the bottom of the fourth with Brogan Bianco-Rivas delivered a two-out single to score Criscione and a throwing error on a ground ball hit by James Down allowed Criscione to slide in with the unearned run that gave Paramus the 3-1 lead that it carried into the top of the seventh inning.
The Spartans were counting outs as the game wore on hoping to Epstein had enough left two keep the lefty-lefty advantage in order for one more trip through the top three spots in the Hackensack lineup, but when Kendel led off the seventh with his single, that was no longer an option.

Szurintini has been Paramus' closer for most of the season, but he is not left-handed and Hackensack finally had the advantage, even if it took until its final turn at bat to get there.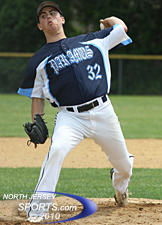 Paramus starter Mike Epstein was outstanding through 6-plus innings of work.
"[Epstein] is a great competitor. He handcuffed us today, he handcuffed us the first time we played them. We thought we had him pretty well scouted going into this game, but again he made a lot of good pitches to get us out. I take my hat off to that young man," said Carroll. "We have been facing No. 1s and No. 2s most of the season, but what we have been preaching to our athletes is that if we can get into the other team's 'pen, we have a really good shot. And that is what happened."
Actually there were three good shots, all in a row, by Kendel, Troisi and Swatek, who clubbed his eighth home run of the year.
"We hoped to leave Epstein in to face the lefties, but he was up to 106 pitches. If he got the lead off batter he would have stayed in. Once he didn't get the leadoff batter, Szurintini has been our closer most of the year," said Paramus skipper Joe Cervino. "Swatek hit a low change-up, which is Szurintini's best pitch against lefties, and just took it over the fence. The unearned run on the dropped fly ball in the first killed us. We would have still been playing right now at the worst."
But instead it is only Hackensack that is left playing as it improved to 19-7 on the season and is one of only four teams left with a chance to win the Bergen County championship. The Comets will play Westwood in next weekend's Final 4 at Northern Valley/Demarest.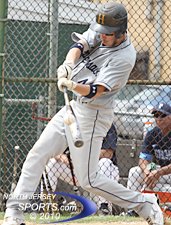 Senior Vincent Troisi scored two of Hackensack's four runs.
"That sounds great," said Swatek. "It hasn't happened for a while."
Hackensack outhit Paramus 9-5 and Swatek finished 3-for-4 with a home run, a double, a run scored and three RBI to go along with his six-hitter in which he did not allow a walk while striking out eight in improving his record to 5-2. Kendel was also 3-for-4, clean-up hitter Frank Pinto had two hits in his four plate appearances and Josh Colon had Hackensack's other hit, a one-out double in the fourth.
Paramus bunched its five hits as it had three in the second and two in the fourth. Its other hit was a Nick Henriquez bloop single in the bottom of the seventh that gave the Spartans two base runners after pinch hitter Tony Billera had reached on a one-out error. But Swatek induced a fly ball for the final out and Paramus saw its once-promising season come to an end with a 22-6 record. The Spartans were knocked out of the North 1, Group 3 state sectional tournament in a 1/16 upset pulled by Northern Highlands.
"We had already beaten Westwood 4-0, we beat [Don] Bosco and Pascack Valley, the two teams left on the other side of the [county tournament] bracket and in the states we had beaten everybody in the bracket and we came up short in both tournaments," said Cervino, who surpassed the 500 career win milestone earlier this season. "For the 12 seniors that are leaving it is a heart-breaker. We played hard all season, we just came up short."
FOR MORE PHOTOS OF THIS EVENT OR TO BUY A COLLECTOR'S PRINT OF THIS GAME STORY, PLEASE VISIT 4FeetGrafix.com.