Friday, November 11, 2016
By Cory K. Doviak
NJS.com Editorial Director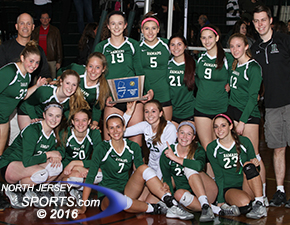 Ramapo won its second state sectional title in the last three years with a 25-18, 25-17 sweep of NV/Demarest in the Group 2, Section B final on Thursday.
FRANKLIN LAKES – Up against a dangerous opponent with a long pedigree of postseason success, Ramapo's volleyball team did not want to take any chances as it opened leads in both games against Northern Valley/Demarest in the Group 2 Section B final. When the Green Raiders got themselves out in front, they knew how it important it was to stay there.
"I think that we came in knowing that we had to give it our all. Demarest is an amazing team, they have been forever. They are so good and it was really good competition," said Ramapo junior hitter Gretchen Kincade. "We have been practicing so much for how they attack and we were really prepared. We had high energy the whole way through and we just did not give up."
Ramapo got ahead and stayed ahead on the way to a 25-18, 25-17 victory and its second state sectional championship in the last three years. The Green Raiders (22-2) earned a spot in Saturday's Group 2 state final against River Dell, which beat Tenafly for the Section A title.
Ramapo ran out to a 20-12 lead in the opening set and a 20-10 lead in the second and there was really not much drama down the stretch of either. Other than a 6-0 Demarest run that took it from down 21-11 to down 21-17 late in the second set, Ramapo stayed consistent until closing out the festivities with three straight points on the serve of Corinne Dougherty.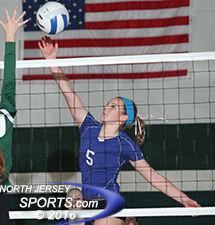 Junior Ellen Hamlin had four kills to pace Northern Valley/Demarest.
"Especially when they got points I thought we did a really good job of getting our energy back and fixing our mistakes, especially on serve/receive," said Ramapo's Elena Montgomery. "I think the key was that we just kept pushing and didn't let them go on runs."
Ramapo is a team that gets contributions from every player it runs out there. Seniors Ana DiPrizito and Emily Calabrese do a lot of the dirty work at the net, Kincade is a hybrid player who can blast away from the outside as well as dig up balls from the back row, Caroline Smolenski is a steady setter, Victoria Zmuda is a key part of the serve/receive and Dougherty always seems to come up with a string of service points in a row. But when the Green Raiders really need a point, it is set Montgomery and get out of the way.
The junior outside hitter is among the hardest and most accurate hitters in the state and she was on top of her game against Demarest. In a match that lasted just two sets, she finished with 17 kills on a hitting percentage of 80 and also chipped in with four digs.
"We know that we just have to get the ball up. We have Elena on the outside, she is an amazing hitter," said Kincade. "We know that if we can get the ball up we can put it down."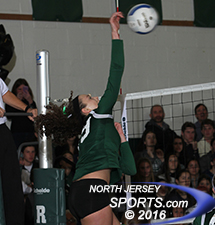 Elena Montgomery had a match-high 17 kills for Ramapo, which will play River Dell for the Group 2 title on Saturday.
Kincade finished with 7 kills and 5 digs; DiPrizito had 3 kills, 2 blocks and 2 digs; Zmuda had 3 digs and 2 assists and Smolenski had 25 assists for the Raiders, who turned the tables on Demarest after having their season ended by the same opponent in this round last season. Junior Ellen Hamlin had 4 kills to lead the Norsewomen.
It only gets harder from here, however, for Ramapo. River Dell is the defending Group 2 state champion, the reigning Bergen County champion and one of only two teams to beat Ramapo this season. It is going to take almost a perfect game for Ramapo to pull the upset at William Paterson University, but nothing is impossible, right?
"We know that we will have to play better than we did today, we absolutely know that we do. We can't let little runs turn into big ones and we have to play with a lot of energy," said Ramapo head coach Dave Van Hook. "This group has a lot of fun, almost to a fault sometimes, but it was nice to see their focus today. They were locked in and we will need that and more in the next one."
CLICK HERE FOR MORE PHOTOS FROM THIS GAME. TO BUY A COLLECTOR'S PRINT OF THIS STORY, PLEASE VISIT 4FeetGrafix.com.