Saturday, October 29, 2016
By Cory K. Doviak
NJS.com Editorial Director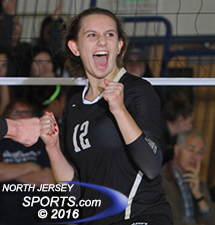 Samantha Grandich served seven straight points in the second set as part of a 20-2 match-clinching run in a 25-22, 25-8 River Dell win over Old Tappan in the BCWCA Tournament semifinals.
OLD TAPPAN – If the second set of Friday night's Bergen County Volleyball Tournament semifinal match between River Dell and top-seeded Northern Valley/Old Tappan had been scored like a baseball game then it would be much easier to explain. Twenty-seven up, 27 down is an obvious perfect game on the diamond, but in volleyball perfection can be a little more subtle.
The game moves so fast and there are no built in breaks in the flow of play, so it is not exactly easy to know what is happening in the moment. It is not until after when the numbers are tallied and the facts are weighed that it is possible to put what River Dell did in the second set into perspective.
Up against the top seed and the defending champion and also the undefeated and No. 1 ranked team in the state, River Dell put together a set that had to be one of the best ever played in the tournament's 41-year history considering the stakes and the quality of opponent.
After signaling its intentions with a hard-fought, three-point win in the first set, River Dell took off in Game 2. Trailing 6-5 after one its few mistakes of the evening, a serve that went long, the Golden Hawks went on to score 22 of the final 25 points of the night. River Dell had Old Tappan caught in a rough spot in its rotation and never let it off the hook as it put together runs of 10-0 and 10-1 to barrel into the county final for the first time since 1997 with a dominating 25-22, 20-8 victory on Old Tappan's home floor.
"That was crazy. Obviously Old Tappan is great competition, but after we won the first game we knew we had to keep pushing and show no mercy because we knew they were capable of coming back if we gave them a chance," said River Dell senior Meredith Currlin. "We knew we had to fight hard to win that second set and win it in two, so we didn't even have to worry about the pressure of a third set. We got that done."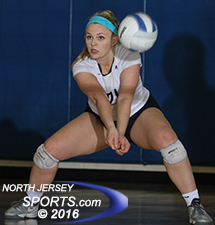 Maya Illovsky had 7 kills and 12 digs to lead Old Tappan, the top seed and defending champion that lost for the first time this season.
River Dell is now just one win away from its first county championship since winning the only one in program history way back in 1977. The fourth-seeded Hawks, now 21-0 on the season, will play No. 3 IHA for all the marbles on Sunday in a 2:00 p.m. start also at Northern Valley/Old Tappan High School.
"We haven't been to the finals since '97 when we lost to Demarest. This is history for us. Today we played as a total unit and that was the thing. Play together and have fun," said River Dell head coach Diane Furusawa, whose team is now a perfect 21-0 and has played only one three-set match all season. "That is why my kids don't have the highest stats in the state and why I have such a hard time getting kids on first team all-county. We've won but we do it as a team."
The first set was entertaining, filled with long points and the kind of defense that was expected between two teams that entered with a combined record of 37-0. But somewhere around the midpoint of the opening game, River Dell started to win just about all of the jousts at the net and scrambles to get the ball back over. It not only helped in the moment, but also over the long term as it sent that message that no point would be easy and no ball would fall unchallenged.
Old Tappan (17-1) had its best stretch of the night starting right after it fell behind 11-7 after River Dell's Samantha Grandich served an ace. The Knights rallied to score six straight and Maya Illovsky started it off it a big swing from the outside. Corinne Issa then had two straight kills, Alexandra Trouilloud crunched one off the block and then two straight River Dell errors gave Old Tappan a 13-12 lead, its last of the opening set.
There were ties at 13 and 14, but River Dell forged in front right after that and never looked back. Christa Passaretti's kill from the outside made it 17-14, Grandich's stuff of an overpass made it 20-16 and Emma Plutnicki's kill from the middle of the floor made it 23-19. Old Tappan answered with three straight points to get to within a point, but Grandich got one to fall through a tangle of arms at the net and an Old Tappan attack error on set point gave the fourth-seeded Hawks a 1-0 lead.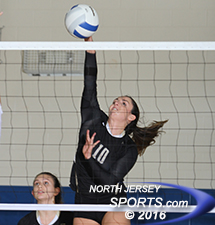 Christa Passaretti was one of four River Dell players to finish with 6 digs.
There was no hint of what was to come when Old Tappan ran out to a 4-1 lead in the second set and another nail-biter looked like it was in the offing when the Knights had a 6-5 lead, but Plutnicki hit one down the line to put River Dell in front for good at 7-6 and force the match-changing rotation.
Old Tappan junior Julia Passante, one of the state's best net players, does not play in the back row and so headed to the bench as a part of the usual shift as Grandich took over the serve. Passante never got back on the court.
Grandich served seven straight points, the last of which came on a rip down the line by Passaretti that gave the Hawks what turned out to be an insurmountable 15-6 lead.
"It was great. Getting aces on them and forcing them to play free balls over really pumped us up," said Grandich, a junior outside hitter. "We know how good Old Tappan is, but we also we knew what a great opportunity this was for us. We weren't nervous at all because we really felt like we could win from the beginning and we just more confident as the game went on."
Grandich's run from behind the service line finally came when she put her eight serve over the endline, but it was just a temporary hiccup. Meredith Arancio, one of River Dell's three senior captains, took over the serve with her team up 17-8 and never gave it back. Mikayla Serrett stuffed an overpass to give River Dell the only match point in needed and she also came up with the final point on a kill from the middle of the floor.
"The first set was the battle I expected; long points, back-and-forth. In the second set I thought River Dell played great, but on the flip side I was disappointed. I don't think we collected ourselves well and did not come out for the second set with a positive mindset. The doubt was there," said Old Tappan head coach Melissa Landeck. "That is a credit to a great team like River Dell. We played as well as we could in the first game and still lost. They didn't make a lot of mistakes, they have a lot of options offensively and it is tougher on your defense and your block where there are two or three options, solid options, in every single rotation."
Illovsky finished with 7 kills and 12 digs for Old Tappan, Passante had 5 kills and 2 blocks, Kelly Chen led the defense with 8 digs and Becky Chu led the Knights in assists with 10.
River Dell split the workload as usual as Passaretti had a team-high 6 kills while Plutnicki had 5. But the most telling stat was a defensive won that shows just how hard it is for the opposition to find one weak link to pick on. Grandich, Passaretti, Plutnicki and Currlin all finished with 6 digs and Gabe Rivera had 5 for the River Dell, the two-time defending Group 2 state champion, which can end a 39-year county tournament title drought with one more win on Sunday against IHA. The last time they met was in last year's Tournament of Champions, a semifinal match won by IHA.
"It is going to take a lot of hard work. IHA is a great team, we know that and they are every single year," said Currlin. "We just have to get it going like we did tonight. We know we can be good when we are clicking and it starts with the basics like one pass, one set, one hit."
CLICK HERE FOR MORE PHOTOS FROM THIS GAME. TO BUY A COLLECTOR'S PRINT OF THIS STORY, PLEASE VISIT 4FeetGrafix.com.