Thursday, October 27, 2016
By Cory K. Doviak
NJS.com Editorial Director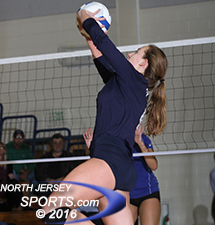 Julia Morris handed out 27 assists for IHA, which came back from a 20-12 first set deficit on the way to a two-game sweep of NV/Demarest in the BCWCA Tournament quarterfinals.
OLD TAPPAN – Immaculate Heart Academy's run of four straight Tournament of Champions titles came to an end last season and with zero seniors not only in the starting lineup this year, but also zero seniors on the entire roster, there was a chance that Blue Eagles' might be taking a step back to regroup after years of statewide dominance.
IHA has lost three times during the regular season this year and entered the Bergen County Tournament as the No. 3 seed, but it might just be that over the 33 matches it had played already, the experience is starting to catch up with the young talent it runs out there. Up against Northern Valley/Demarest, the No. 6 seed and fellow perennial powerhouse, in Wednesday night's quarterfinal, IHA showed the poise of a team knows how to win a big match.
IHA trailed heavily for most of the first set and was struggling to keep up, but just when it seemed like Demarest was going to grab control of the game and the match, the Blue Eagles battled back. They turned a 20-12 deficit into a 25-23 victory and the momentum carried right over into sweep. IHA took the second game 25-19 and grabbed one of the two remaining spots in Friday night's semifinal round where it will face No. 2 Ramapo, which claimed the final slot with its sweep of Ridgewood in the nightcap.
"It was 20-12 and I don't even really remember what happened other than our kids never gave up. It just took us a while to get started," said IHA head coach Maria Nolan. "We warmed up, we didn't look nervous, but then all of a sudden you take the court and you never know what is going to happen."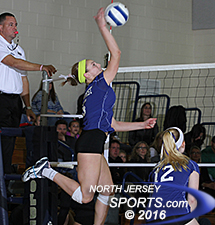 Ellen Hamlin led the attack for sixth-seeded Northern Valley/Demarest.
What happened was IHA made some mistakes in succession that allowed Demarest to get some early breathing room. Megan DeMartini, one of only two Demarest seniors, served six straight points to give the Norsewomen a 16-8 advantage. Demarest still led by 8 points at 18-10, 19-11 and at 20-12 after junior Ellen Hamlin went cross court for a kill.
The IHA comeback started innocently enough when Colette Petric pounded one off the block to make it 20-13, but that point kicked off a 13-3 game-ending run that even two Demarest timeouts in the late stages could not slow down.
"Going into the match we knew that Demarest is one of those teams that really takes you out of your everyday game and they made us make some silly mistakes," said IHA assistant coach Ed Rossiter. "All of the little things that we do every day in practice, we had to take them out to the court and we took it one point at a time."
Sophomore Sydney Taylor stuffed an overpass to pull IHA to within 21-17 and force the first Demarest timeout, but an attack error right after the stoppage cut the Norsewomen lead by another point. Demarest used its second timeout with a 22-20 lead, but what turned the match in IHA's favor for good came right after the teams returned to the court. Hamlin took a big swing and might have caught the back line, but the line judge ruled the ball out. There is no way to verify the call's accuracy, but it certainly was close.
A point that would have put Demarest up 23-20, instead drew IHA to within 22-21. IHA freshman Anna Morris and Demarest's Ohr Yahalomi then took turns smothering points at the net before an error left the score tied at 23. Morris then gave IHA its first lead of the match at 24-23 with a boomer off a dig and she ended it with a block on the outside.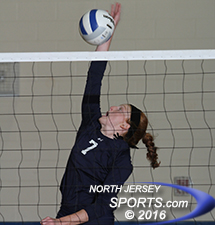 Catherine Fazio and IHA will take on second-seeded Ramapo in the semifinals on Friday night.
"I was a little nervous going into it but having my sister [Julia] on the team helps. I knew we could do it. We have this say on the team, '212, go the extra degree,' and I think that really helped us to push back," said Morris. "As the game went along I started to get less nervous and more excited to win. I think we feel confident even though we are young and don't have any seniors."
The second match was less suspenseful as Taylor's ace put the Blue Eagles in front for good at 12-11 and they never looked back. Catherine Fazio had 12 kills and 5 digs for IHA, Anna Morris finished with 4 kills, 6 digs and 2 blocks and Julia Morris handed out 17 assists and had a match-high 11 digs as the Blue Eagles improved to 31-3 heading into the Final 4 against Ramapo, a team they saw in passing in a one-game, winner-take-all format in a weekend tournament won by the Green Raiders. The rematch will carry much bigger stakes.
"We played Ramapo in the Paramus Tournament one set and they won, so we are happy that we will be able to play them a real match," said Nolan. "We've been looking forward to it, they are a great team and it should be a great match."
CLICK HERE FOR MORE PHOTOS FROM THIS GAME. TO BUY A COLLECTOR'S PRINT OF THIS STORY, PLEASE VISIT 4FeetGrafix.com.