Wednesday, October 26, 2016
By Rich Barton
NJS.com Staff Writer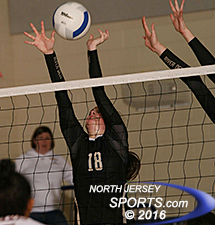 Meredith Currlin had 15 assists, 10 digs, and six kills for River Dell, which stayed unbeated with a three-set win over Bogota in the Bergen County Tournament quarterfinals.
OLD TAPPAN – If a team is going to win a prestigious event like the Bergen County Volleyball Tournament, it is going to have to face and overcome situations like three-set matches where fitness and mental toughness are put to the test. As dominant as River Dell and Bogota, Tuesday night's Bergen County quarterfinal opponents, have been this season they have not often been tested to that extent yet as they have combined to go three sets just once in 42 matches.
Something had to give as the teams went head-to-head with a Bergen County semifinal berth on the line at Northern Valley/Old Tappan High School.
River Dell swept all of its previous 19 matches this season before Bogota stormed out to an early lead and took game No. 1. The No. 4 seeded Hawks responded by taking the next two games to stay unbeaten and advanced to the Bergen County semifinals with a 19-25, 25-18, 25-16 win.
"After losing the first game I just wanted us to go back to having fun and playing our style," said River Dell head coach Dianne Furusawa. "I'm glad we finally faced adversity and we got pushed the way we did today. It all starts with one pass, then one set, then one swing. When you break it down like that, the game becomes much easier."
Bogota came out ready to play as it won a long first point of the match. The Lady Bucs never trailed in the opening set with an ace from Lisbeth Suarez capping an 8-2 spurt to grab a commanding 21-11 lead. The Hawks got back within four points before eventually dropping their first set of the season. That was the wake-up call River Dell needed as the energy level went up dramatically for games two and three.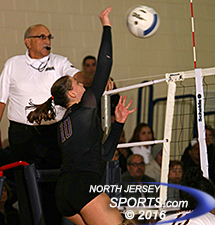 Samantha Gioiosa led all players with 24 kills and 14 digs for Bogota (22-2)
Tied at 11 in the second game, Samantha Grandrich and Meredith Currlin had consecutive kills followed by an ace from Gabe Rivera to grab the lead for good. The Hawks were adept at keeping the ball off the floor and points alive long enough for the Bucs to make uncharacteristic mistakes. From the time they were tied at 11, Bogota only registered two kills the rest of the game against six attack errors and two service errors with River Dell squaring the match at one game apiece.
"I think we weren't clicking in the first game and they were just executing better than we were," said Currlin. "I think we got it together and got our rhythm going. Once we lost the first game we had to come out guns blazing for the second and then the third game."
Bogota got two straight kills from all-stater Samantha Gioiosa to start the third and deciding game. That lead was short-lived though as the Bucs suddenly could not keep the ball in play. Despite putting down just one kill over the next 12 points, the Hawks took advantage of a whopping seven attack errors by Bogota over that span to take a 10-4 lead.
"We just weren't mentally tough as we needed to be to win tonight," said longtime Bogota head coach Brad DiRupo. "It's frustrating because I know we're capable of playing so much better, so much tougher. River Dell came out flying to start the second game and never stopped. We didn't respond to the challenge. If we don't control our emotions better and if we don't react to stressful situations well, we will not win a state title. I really hope this is a wake-up call for us because apparently we need one and we got one tonight."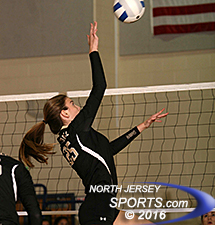 Mikayla Serrett had 6 kills and five blocks for fourth-seeded River Dell, which will play No. 1 Old Tappan in Friday's semifinal round.
Mikayla Serrett and Currlin had back-to-back blocks followed by a big kill from Serrett to take a 20-10 lead. Another Serrett kill closed out the match and sent the Hawks into the BCT semifinal round.
Currlin had a well-rounded performance with 15 assists, 10 digs, and six kills for River Dell (20-0). Christa Passaretti and Grandich each had seven kills with Serrett recording six kills and five blocks. Gioiosa led all players with 24 kills and 14 digs for Bogota (22-2). Kaliana Vasquez had a match-high 24 assists and Suarez added 14 digs.
River Dell advances to Friday night's Bergen County semifinal against top-seeded and defending champion Northern Valley/Old Tappan with a 6:30 P.M. scheduled start time. Beating the No. 1 team in New Jersey on its home court is no small task. But after being pushed in the both the Round of 16 and the quarterfinal round, the Hawks feel that they have just as good of a chance as anyone to be the ones to end Old Tappan's long win streak.
"It will be a tough match but we're excited to be challenged by a great team like Old Tappan," added Currlin. "We'll practice even harder tomorrow than we have all season to try and get ready for it. We'll keep our energy up and we'll have to come up with a gameplan to try and beat them."
CLICK HERE FOR MORE PHOTOS FROM THIS GAME. TO BUY A COLLECTOR'S PRINT OF THIS STORY, PLEASE VISIT 4FeetGrafix.com.