Wednesday, October 26, 2016
By Rich Barton
NJS.com Staff Writer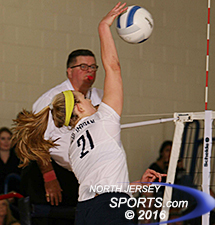 Maya Illovsky, just back from injury, got it going just in time to help Old Tappan survive the first set before it pulled away for a sweeep of Tenafly in the Bergen County Tournament quarterfinals.
OLD TAPPAN – When a team is undefeated and widely recognized as the best team in the state, complacency is rarely a trait that appears over the course of a season. But after Old Tappan dominated Tenafly in their two regular-season meetings, including a 15-0 run to start their match last week, nearly everyone in the Golden Knights' gym expected more of the same when the teams met again in the Bergen County quarterfinals on Tuesday night.
The Golden Knights got caught looking ahead to a potential Bergen County semifinal against undefeated River Dell and nearly paid the price for it.
Tenafly played a spirited first set and had two game points that would have sent shockwaves throughout the gymnasium. Old Tappan leaned on its experience and its winning pedigree to survive a second major county tournament scare in a three-day span.
Maya Illovsky returned from an injured shoulder and heated up at the perfect time. She had consecutive kills to save both set points as top-seeded Old Tappan survived the first set before pulling away in the second for a 26-24, 25-18 win over pesky Tenafly, the No. 8 seed, at Northern Valley/Old Tappan High School.
"It's tough to play a team three times and this was by far the best Tenafly has played against us," said Old Tappan head coach Melissa Landeck. "They passed very well in that first game and we weren't clicking. In the Bergen County Tournament there are a lot of really good teams who can beat you when they're on their game. We were on the ropes, but we fought back and found a way to get the job done."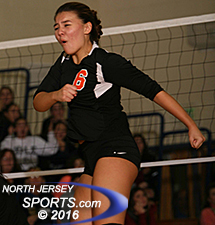 Emma Fitzpatrick and Tenafly came out on fire and had two game points in the opening set.
After being blitzed in their meeting just one week prior, the Tigers were embarrassed and knew they were capable of playing better than they showed on that day. This time it was the Tigers who got off to a hot start. Sofia Parmelee had two big kills to start the match and the Tigers grabbed a 4-0 lead. Old Tappan battled back to grab a one-point lead but it did not last long.
Tenafly took advantage of several miscues, including a service error and two attack errors, in a four-point span to take a 20-14 lead.
The Golden Knights answered right back with an 8-0 run with three kills from Julia Passante putting them back in front 22-20. Tenafly refused to roll over and came right back with kills from Parmelee and Georgia Eberley as the Tigers held two game points.
After dropping a game to Glen Rock in the Round of 16 on Saturday, the Golden Knights did not want to face have the prospect of playing another third game against a team with nothing to lose. Illovsky struggled to get going out of the gate but came alive when her team needed her most. She had consecutive kills to tie the game at 24 before two serve-receive errors allowed Old Tappan to take the first game.
"We had them and we let them off the hook," said Tenafly head coach Jeff Koehler. "I thought we played exceptionally well, probably our best match all season. To have a team like Old Tappan in trouble like that everything has to go right. We just needed one more point, but give them credit. They never got rattled and won the big points they needed to."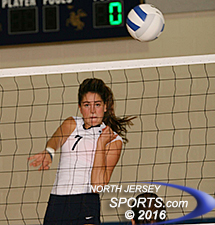 Julia Passante and Old Tappan will play Bergen County's only other remaining undefeated team, River Dell, in Friday's semifinals.
Behind Illovsky, the Golden Knights kicked it into high gear in the second game. Illovsky had five kills on six swings along with a block during a 13-4 run to put the Golden Knights comfortably in front, 18-9, en route to the two-game sweep.
Illovsky had 10 digs and nine kills for Northern Valley/Old Tappan (17-0). Passante led all players with 11 kills and three blocks. Becky Chu ran the offense smoothly with 16 assists. Emma Fitzpatrick led the way with 11 assists and six digs for Tenafly (20-6).
The last two unbeaten teams in Bergen County will square off on Friday night. Old Tappan will take on River Dell the Bergen County semifinals with a 6:30 P.M. scheduled start. Although a victory means being one step closer to a county title, the immediate concern is how the Golden Knights will overcome their recent slow starts. With a healthy Illovsky back in the lineup, Old Tappan looks to get back to championship form.
"I think we have had so much adrenaline lately that we need to find a way to slow that down earlier in our matches," said Illovsky. "In the second set, we were talking to each other and trying to pick each other up. We have a lot of respect for River Dell and we know a few of their players. Basically, we just have to do what we do best but just execute that better and more consistently."
CLICK HERE FOR MORE PHOTOS FROM THIS GAME. TO BUY A COLLECTOR'S PRINT OF THIS STORY, PLEASE VISIT 4FeetGrafix.com.