Sunday, October 23, 2016
By Rich Barton
NJS.com Staff Writer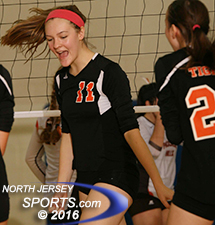 Sofia Parmelee and Tenafly celebrated comebacks in both sets as the Tigers advanced to the Bergen County Tournament quarterfinals with a 25-23, 25-19 win over Pascack Hills.
OLD TAPPAN – Tenafly could only watch helplessly as Pascack Hills celebrated with each service point. A once large Tigers lead had completely evaporated and they were just two points away from facing a one-game deficit, down 23-17. The Tigers showed no quit and pulled off a miraculous comeback to touch off a celebration of their own. They loved it so much that they did it twice.
Tenafly, the No. 8 seed, scored the final eight points to steal the first set before going on a 10-1 run to clinch the sweep with a 25-23, 25-19 win over ninth-seeded Pascack Hills in the Bergen County Tournament's Round of 16 on Saturday at Northern Valley/Old Tappan High School.
"Coach [Jeff] Koehler always talks about having a positive mentality, keeping our energy up because a set isn't over until it's actually over," said Tenafly senior setter Emma Fitzpatrick.
Despite having just one kill over the first 13 points of the first set Tenafly took advantage of numerous Pascack Hills' miscues to grab an early 10-3 lead. The Cowgirls were behind big but quickly served their way right back in the game. Junior Kaitlyn McCluskey got hot behind the service line and the Cowgirls seized momentum. She served seven straight points capped by back-to-back aces for a 23-17 lead.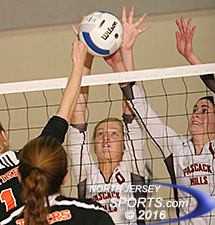 Erin Hendrick and Pascack Hills hung in there in both sets.
Tenafly was reeling and needed to make something happen fast. Fitzpatrick ran the offense to perfection to end the first set and allowed her teammates opportunities to swing away. Madison Pinnel and Sofia Parmelee got things going with consecutive kills. Pinnel also had a block before completing the comeback with two more kills to snap a 23-all tie and give Tenafly a one-game lead.
"This team never gives up and I'm proud of how we just kept fighting back," said Tenafly head coach Jeff Koehler. "Pascack Hills is a really, really good team and we had to make our own breaks against them. These kids have worked hard all year and we wanted this bad. To comeback in that first game the way we did is unbelievable."
The two teams traded leads back and forth during a tense second set. The Cowgirls made a push behind the combination of middle blocker Erin Darley and opposite hitter Erin Hedrick. Darley had two kills wrapped around a big block from Hedrick to stretch the lead out to 18-15. Facing a deficit was nothing new to the Tigers, though, and they mounted yet another comeback.
Parmelee put down a Fitzpatrick set for a kill to give Tenafly the lead for good. Parmelee took over down the stretch with three kills during the 10-1 spurt before ending the match on back-to-back aces to send Tenafly into the BCT quarterfinals.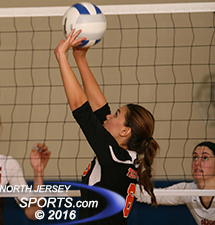 Emma Fitzpatrick and Tenafly will take on top-seeded Old Tappan in the quarterfinals.
"It was our last county tournament and we wanted to finish strong," said Parmelee. "Emma is a great setter and I just had to do my job at the net."
Fitzpatrick had a game-high 16 assists, five digs, and two kills for Tenafly (20-5). Parmelee and Pinnel each had seven kills, two aces, and a block. McCluskey finished with 14 assists for Pascack Hills (16-5).
Tenafly will face a tall order against top seed and defending Bergen County Champ Northern Valley/Old Tappan. The Tigers suffered a 25-9, 25-16 defeat at the hands of Old Tappan this past Tuesday. But with nothing to lose and everything to gain, the Tigers are looking forward to getting to play on a bigger stage this coming Tuesday.
"We have nothing to lose and we'll come into the match as prepared as we could having seen them already," added Fitzpatrick. "It's an honor to get this far in the county tournament and an honor to play a team like Old Tappan. After winning a match like this where it all came together at the right time, we're excited to get a chance to play Old Tappan again and see how we do."
CLICK HERE FOR MORE PHOTOS FROM THIS GAME. TO BUY A COLLECTOR'S PRINT OF THIS STORY, PLEASE VISIT 4FeetGrafix.com.