Sunday, October 23, 2016
By Rich Barton
NJS.com Staff Writer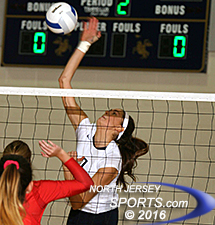 Julia Passante dominated the third game at the net for top-seeded NV/Old Tappan, which needed three sets to knock off
No. 17 Glen Rock in the Bergen County Tournament quarterfinals.
OLD TAPPAN – It was not that long ago when a top seed playing in the Round of 16 in the Bergen County Volleyball Tournament could practically name the score against its opponent. That is no longer the case as the depth of both individual talent and teams with players who play all year round has risen drastically. This year's top seed and defending champ Northern Valley/Old Tappan found that out first hand on Saturday. After sweeping their last 10 opponents, the Golden Knights were forced to a third game for the first time in over a month by a hungry Glen Rock side looking to pull the biggest upset in the history of the BCT.
After splitting the first two sets the Golden Knights righted the ship for the third and deciding game. Middle blocker Julia Passante made up for a miscue to end the second game. She had two huge kills and two blocks in a closing 12-2 run as No. 1 Northern Valley/Old Tappan pulled away for a 25-20, 23-25, 25-11 victory over 17th seeded Glen Rock at Northern Valley/Old Tappan High School.
"We came into this knowing that Glen Rock was a good team, but they definitely took us a little by surprise with just how good they were," said Old Tappan senior Becky Chu. "I think we got a little frustrated because we never got huge rhythm. We just hit the reset button going into the third set and got back to basics."
An injury kept do-everything senior Maya Illovsky out of the lineup, but that opened up a spot on the floor for Gianna Fasano. The promising freshman had a solid match on the outside with her kill giving the Golden Knights their first lead of the opening set, 6-5. They never trailed again in the opening game but the Panthers traded shot for shot throughout until a Passante kill gave OT a one-game lead.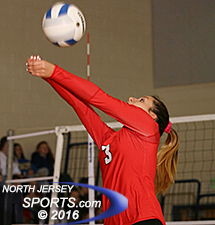 Emily Egermayer (pictured) and Caroline Keller combined for 17 assists for Glen Rock.
Glen Rock proved to be more than just a plucky underdog as it rallied with scrappy play that often led to long, exciting points. Lizzie Chu's ace gave Old Tappan a 3-2 lead, but that lead would be the Golden Knights' last of the game as Glen Rock hit its stride and never took its foot off the gas. Seniors Paige Lemieux and Lizzie Alba came up clutch at various points of the game to keep Old Tappan off-balance.
Lemeiux ended a long point with a kill to make it 24-22. Passante answered back with a kill to cut the lead to one but followed with a service error as Glen Rock squared the match at one game apiece. It is only the third time this season that Old Tappan has been taken to a third set. Suddenly, the possibility of being upset on their home court was very real. The Golden Knights knew that they needed to step up and set a tone for the third set.
Passante rose to the occasion with back-to-back kills followed by one from Fasano for a 6-2 lead. The lead was still four when Passante came up with a huge block to bump the lead up to five. After the teams traded attack errors, Passante took over. The 6-foot-3 junior had consecutive kills and a block two points later to make it 19-10 and essentially allowed the Golden Knights to finally breathe easy.
"I wasn't as nervous going into the match, but after we kept making mistakes we were getting a little nervous," said Passante. "I think in the third set we started to mix it up and hit smart shots. It was a test for us and we were able to get it together. This is a wake-up call and we need to come into every game ready to play."
Passante led all players with 17 kills and three blocks for Northern Valley/Old Tappan (15-0). Kelly Chen led the way with 15 digs, Lizzie Chu had 14, and Becky Chu added 10 to go with 15 assists. Junior Madelyn Pulver quietly had a great match with 18 assists, six digs, and five kills.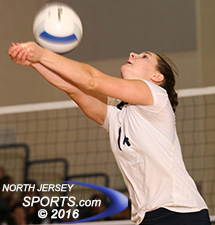 Old Tappan junior Madelyn Pulver had a great match with 18 assists, six digs, and five kills.
Lemieux led Glen Rock (16-4) with 11 kills. Caroline Keller had 13 digs with Sophia Algerio and Emily Egermayer combining for 17 assists. Despite the loss, the Panthers have served notice that they will be a force to be reckoned with for the state tournament.
"This is the fifth year in a row we've been in this spot and we weren't phased by the moment," said Glen Rock head coach Matt Kingsley. "I thought we came in really focused on making one pass to run an offense and get a good swing. I'm very proud of just going out and playing against a great team."
Old Tappan advanced to the Bergen County quarterfinals with the win. The opponent will be eighth-seeded Tenafly and the match will be at home with a scheduled 6:30 P.M start. Old Tappan defeated Tenafly easily this past week, but if there is one thing the Golden Knights have learned in the past 24 hours it is that no opponent is ever to be taken lightly when it comes to the Bergen County Tournament.
"We've battled a lot of adversity already this season and if we just play our game we always find a way to pull through," said Pulver. "We have to come out strong right from the beginning and we weren't communicating as well as we wanted to. From now on we have to come out strong like we did in the third set today if we want to be successful and keep advancing in the tournament."
CLICK HERE FOR MORE PHOTOS FROM THIS GAME. TO BUY A COLLECTOR'S PRINT OF THIS STORY, PLEASE VISIT 4FeetGrafix.com.