SDA comes from behind for third straight county title
Thursday, June 2, 2005
By Rich Barton
NJS.com Staff Writer
Senior Leigh Ann Murduca allowed seven hits, but none over the final three innings, to help St. Dominic to its third straight county title.
JERSEY CITY - For the past three seasons, St. Dominic Academy has run roughshod through the HCIAA-Coviello Division. This season was the most dominant for the Blue Devils, giving up just two runs to league opponents heading into yesterday's HCIAA-Coviello championship game.
But the Blue Devils faced adversity, the likes of which they had not seen all year long against North Bergen. When North Bergen's Darlene Christeleit hit a three-run homerun in the fifth inning, St. Dom's found itself in a five-run deficit with just three chances left to make it up. While some teams might fold the tent under such circumstances, the experienced Blue Devils played until the final out, which did not come until they forced extra-innings.
Pinch-hitter Jackie Tredo came through in the clutch with a two-out, two-strike single to tie the game in the bottom of the seventh. Sherry Rosenberg then scored on an error in the bottom of the eighth to lift top-seeded SDA to its third consecutive HCIAA-Coviello crown with a thrilling 7-6 victory over North Bergen, the No. 3 seed.
"This is definitely a game I'll always remember," said Tredo, a sophomore. "North Bergen is a good team and we knew it would be a close game. We didn't think we'd have to come back the way we did, but we got the win and that's what counted."
Run-scoring opportunities have been far and few between against St. Dom right-hander Leigh Ann Murduca. North Bergen set the tone by getting one in the second inning, but a great play by St. Dom's third baseman Vicky Perez negated it quickly.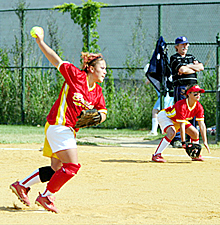 North Bergen's Tiara Smith allowed seven hits, walked four, and struck out four in taking the loss.
With a runner on third and one out, Perez lunged to stop a hard ground ball off the bat of Johanna Gonzalez. She alertly tagged the runner then went to first for the double play to end the inning. While the scoring chance was squandered, the Bruins realized that Murduca was hittable.
The Bruins kept the bats going in the third inning and did not waste their second chance. After a walk and an error to lead off the inning, Leslie Gonzalez singled to load the bases. Tiara Smith's sacrifice fly opened the scoring and Christeleit followed with a two-run single to left. The Blue Devils were not only in a three-run hole, but they also gave up more runs in that one inning then they have against county competition all year.
"I was concerned because I was hitting the spots I wanted to hit and they were hitting me hard," said Murduca. "No matter what the situation is, I knew I couldn't give up. They had all the momentum, but we felt confident we could get it back."
Smith was in control through the first three innings, but the Blue Devils got one of those runs back in the fourth. Perez looped a double just inside the left-field line, scoring Lauren Canonico, cutting the lead to 3-1.
North Bergen answered back with three more runs in the top of the fifth, all of them coming on one swing of the bat. Gonzalez got on with a one-out bunt single, which was followed by an infield single from Smith. Christeleit then jumped on a high fastball and crushed it on a line to left field. Rosenberg took a step in before realizing that it was going way over her head. The ball rolled all the way to the 265 ft. sign down the left-field line and all three runners scored on the homerun to give the Bruins a surprising 6-1 lead.
"I don't want to say I thought it was in the bag, but I was very confident that we could close it out," said North Bergen head coach Tom Eagleson. "We made some errors and they put the pressure on us to make plays. St. Dom's did what they had to do to get back in the game and we just couldn't get the one big out we needed to hold them off."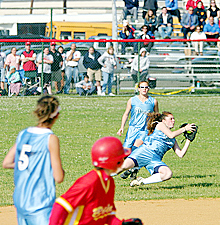 St. Dominic Academy's Sherry Rosenberg (right), who scored the game winning run, making a diving catch.
The Blue Devils shook off Christeleit's three-run shot by getting two of those runs back in the bottom half of the fifth. Stefanie Phillips and Murduca both walked. They came around to score on RBI singled from Rosenberg and Krystle Snarski to trim the lead to 6-3.
"We just had to keep our heads up and getting those two runs helped our confidence," said Snarski. "It was tough to come back from five runs down, but we never felt we were out of the game."
Perez then reached on an error to start the bottom of the sixth. After moving to third on a two-out error, Murduca helped her own cause by knocking in a run with a single. But Smith bore down and got Rosenberg to pop-up with the tying run on second to get out of the jam.
With St. Dom's down two runs with three outs to play, that is when things really got interesting.
Snarski started the inning off with a single and moved to second on a groundout. She then used her speed to cut the lead in half. The senior stole third, then raced home on a passed ball to make it 6-5. But a fly out by Canonico put the Bruins one out away from victory.
Perez started the rally back up by working out a walk. She nearly turned into the goat two pitches later when she got hung up between first and second in a rundown, but made it to second base safely.
Tredo had the game-winning RBI in the HCIAA-Coviello semifinal win over Bayonne and came to the plate with the tying run on second and the game in her hands. The count was 2-2 when she drove an outside fastball from Smith past a diving Gonzalez over the second base bag and into centerfield to tie the game.
"I just wanted to make contact, that was my only goal," said Tredo. "I just wanted to hit the ball hard and hoped it found a hole. I was in the dugout with a bat in my hands all game. So when the time came, I was ready to hit."
North Bergen's Darlene Christeleit had a home run and five RBI.
Murduca settled in, retiring the side in the top half of the eighth. It was the 11th batter of the last 12 she retired after giving up the Christeleit homerun, before getting things started in the bottom half of the inning.
The standout senior turned a Smith pitch with one out and drove it down the left-field line for a triple. Rosenberg then dropped a bunt down, but Murduca got hung up and tagged out. On the play, Rosenberg went to second, which proved to be key several pitches later.
Snarski hit a sharp grounder towards third and hustled down the line. The throw was hurried and thrown into right field, allowing Rosenberg to score with the game-winning run.
St. Dom's tied a school record for victories in a season with 24 with the win. Snarski was named MVP by reaching base in all five at-bats (three singles, a stolen base and an RBI).
"It was disheartening to fall behind 6-1, but we never lost faith in ourselves to get the job done," said St. Dom's head coach Dave Majewski. "We have had so many players come through in the clutch and today everyone seemed to have a big hand in our comeback."
Murduca allowed seven hits, but none over the final three innings to get the win for St. Dom's (24-5). The senior walked two batters and finished with 10 Ks. Perez also reached base in all four of her plate appearances.
North Bergen put up a great fight, but fell just short of a county title with the heartbreaking defeat. Christeleit turned in a career-best performance going 2 for 4 with a homerun and five RBI, an HCIAA-Coviello championship game record. Smith allowed seven hits, walked four, and struck out four in taking the loss. Gonzalez and Smith each had two hits, while Mary Pagliaro had the other safety.
For North Bergen the season has come to a bitter close. But for St. Dominic Academy, the season is still going. The Blue Devils will play in the Parochial A North quarterfinals at second-seeded Mt. St. Dominic (West Caldwell). The winner of that game will face the winner of fourth-seeded Holy Family Academy and top-seeded IHA.
"This is a win these girls will always remember, but now we have to turn the page," added Majewski. "We face a very, very tough Mt. St. Dominic team and we'll have our hands full. But I think the girls will focus and come out with something to prove."
TO PURCHASE A COLLECTOR'S PRINT OF THIS GAME STORY, PLEASE VISIT THE NJS.com SCHOOL STORE!
---
NorthJerseySports.com Information Box:

| About Us | Contact Us | Home | Advertise |
Questions? E-mail the editor editor@northjerseysports.com
All contents © copyright 2002-2005 HSSportsWeb.com, Inc. All rights reserved.