99 Putnam Street, Lodi, NJ 07644
Friday, May 27, 2016
NJSIAA North 2, Group 2 playoffs
BASEBALL:Wild seventh-inning comeback gets Rutherford past Lodi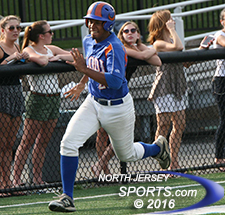 Lodi's Richie Fontanillas.
LODI – There is one word in baseball that is never spoken or even hinted at with a veteran team. Part what makes baseball America's pastime is that there is no time to get too high off of a win or too low after a loss. That is because almost always it is another day to turn the page and play another game. With a Rutherford team chock full of seniors down to possibly the final at-bat of their careers that word finally came up: Desperation. Rutherford was in serious trouble of seeing its season come to an end. Down four runs to Lodi in the top of the seventh inning the Bulldogs were down to their final chance to keep the season alive and do something memorable in the process. It was memorable all right. Rutherford struck for six runs in the top of the seventh inning to take a 9-7 lead. Lodi got one run back in the bottom half of the inning and had the tying run just 90 feet away before Connor Clarc shut the door with consecutive strikeouts to end the game and lift fifth-seeded Rutherford to a wild 9-8 victory over fourth-seeded Lodi in the North 2, Group 2 state sectional quarterfinals on Thursday at Lodi High School. MORE...
---
MORE LODI HIGH SCHOOL SPORTS COVERAGE
Lodi freshman point guard Aliyah Williams.
MARCH
GIRLS BASKETBALL:Ridgefield Park rolls past Lodi and into section semifinals
DECEMBER
BOYS BASKETBALL:Wood-Ridge survives to notch first win
SEPTEMBER
FOOTBALL:Garfield shakes off the rust and rival Lodi