Dumont dashes Cliffside's playoff hopes
Wednesday, October 22, 2003
By Cory K. Doviak
NJS.com Editorial Director
Dumont stopper Kaitlin Mullin and the rest of the defense held Cliffside without a shot for the first 30-plus minutes of the opening half.
CLIFFSIDE PARK - A win and the Cliffside Park girls soccer team would have had a chance. Coming into Tuesday's home game against BCSL-American Division rival Dumont, a team the Lady Raiders had beaten earlier this season, Cliffside had a 7-8 record with a winnable game against North Bergen the only game left on the schedule before Saturday's cutoff for the state tournament.
Dumont (4-12) knew what was riding on the game and was not interested in issuing a free pass into the postseason.
With stifling defense that kept its keeper from getting her first touch on the ball until there were more than 30 minutes played and with a first half goal, Dumont posted a 1-0 win that, for now, ends Clifffiside's state playoff hopes.
"We came out pumped up and ready to play," said Dumont head coach Bill Hardenberg. "The first time we played them we outshot them, but they made a penalty kick and we missed one and that bothered us. We knew they were going for the state playoffs and we came out and played one of our better games.'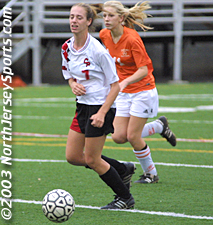 Cliffside's Laura McGarry had one of the Red Raiders' best scoring chances.
The lone goal of the contest came off a cross to the back post sent in by Jessa Bembridge, the Huskies' starting goalkeeper the last two seasons before moving for her senior season. Bembridge's cross fell onto the foot of Renee Marren, who had her initial attempt stopped by Cliffside keeper Karol Gomez. But the ball came free and Marren buried the rebound.
"We've had our chances all season, but the thing is we don't want to shoot," said Hardenberg, who is in his sixth season as the Dumont head coach. "We get the ball inside the 18 and we are always looking for the extra pass and the pretty goal. It was nice to see (Marren) finish that play."
Trailing by a goal, Cliffside finally went on the offensive. Head coach Jill Fucci pulled Gomez, also the team's leading scorer, out of the net and sent her up front, but the Huskies' defense was up to the challenge. With sweeper Jen Pleuse, a first team all-league selection last season as a freshman, Amanda Lala and Kaitlin Mullins playing well in the back, Dumont keeper Kristin Jakob needed to make only five saves to keep the clean sheet.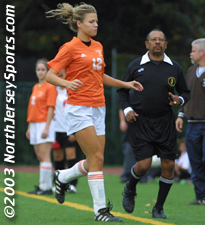 Amanda Lala played well in the back as part of Dumont's stingy defense.
"Early in the game we just weren't going to the ball," said Fucci, whose team beat Immaculate Conception by a goal on Monday to get back to within a game of .500. "I don't know if we were nervous or what it was, but we just didn't play well. We got some chances at the end of the first half and in the second half, but we couldn't get a goal."
With Cliffside pushed up looking for the tie, Dumont, playing less than 24 hours after a loss to Tenafly on Monday night, put together some dangerous chances. One, an apparent breakaway chance by Alexa Manoogian, was cut short by a dubious offsides call and another, a restart from 25 yards out by Alex Binney after a handball, hit off the crossbar.
Cliffside had six of its seven shots on goal after halftime, but couldn't square the match. Laura McGarry had a chance in front midway through the second half that wide of the net, but Jakob otherwise went untested.
The loss leaves Cliffside two games under .500 and Fucci with some phone calls to make. The Raiders will scramble for another game in the next four days against an opponent that also might be just short of qualifying for the postseason.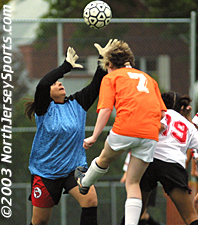 Dumont Alyse Coughling (7) trying to head one past Cliffside Park goalkeeper Ersilia DeFilippis.
"I am going to make as many as calls as I can and see if I can find us another game. I'll even play on Saturday if we can set something up," said Fucci, who has been the Raiders' head coach since the program started four years ago. "We've never been in this position before, so close to the state playoffs. The girls were really upset, especially Klaudia (Renteria) and the rest of the seniors because this is their last shot. We'll see if we can find another game and give them another chance."
NOTES: Dumont senior Alyse Coughlin was injured during a collision with Cliffside Park's Jackie Jano in the second half and taken from the sidelines by ambulance with a possible concussion. According to Hardenberg, she was treated and released from a local hospital without serious injury.
For more pictures from this event or to purchase a Collector's Print, visit the NJS.com School Store!
---
NorthJerseySports.com Information Box:

| About Us | Contact Us | Home | Advertise |
Questions? E-mail the editor editor@northjerseysports.com
All contents © copyright 2001-2004 HSSportsWeb.com, Inc. All rights reserved.