Zurich picks the best time for her best ever game
Monday, March 14, 2005
By Cory K. Doviak
NJS.com Editorial Director
Heather Zurich was a step ahead of the defense all game, hitting for a career high 33 points in the Group 2 state final on Sunday in Toms River.
DOVER TWP. -- There was the time that Kim Beezer had 42 points against Snyder in a state tournament game on March 6, 1993. There was the time that Laura Ely (nee Dougherty from the Class of 1981) scored 36 against Demarest. There was the undefeated team of 1980-81, the first team to make the Tournament of Champions in 1989 and a host of other playoff highlights in the 30-plus years that Jeff Jasper has been the head coach of the Pascack Valley girls basketball team.
But ask Jasper where Heather Zurich's performance, a 33-point masterpiece on Sunday, fits in and he puts it in a special place.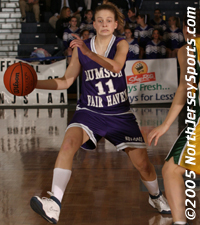 Caitlin Hyduke scored 19 points and was named Rumson's MVP.
"For all that was at stake, this was the greatest of the greatest," said Jasper. "This performance, on this day, in this setting was the greatest."
What was a stake was the Group 2 state championship. The setting was the Ritacco Center on the campus of Toms River High School and the specifics were amazing. Zurich made 9 of her 11 shots in the second half, nailed all 10 of her free throw attempts, scored 25 of her team's 36 second half points and reached a new career high for points in a game.
What it all added up to was a 64-45 win over Rumson-Fair Haven, PV's fourth outright state championship, and the program's second ever invitation to the T of C.
"When you are in a zone like that, everything just went so quickly. Moving, hitting shots…I am in shock. I am so excited right now, I can't describe it. It's unbelievable and it's such a great feeling," said Zurich, a four-year starter who put the cherry on top of her All-State season. "I was just focused and I wasn't paying attention to anyone around me. It was just the ball, the basket…it was just great."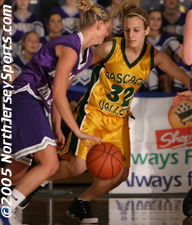 Justine Miras (32) is one of the three seniors who took the walk to halfcourt to accept PV's fourth state championship trophy.
Rumson-Fair Haven (21-8), the Central Jersey champion, was enjoying a stellar playoff run of its own, but was merely a speed bump on the road to where PV was heading. The first of Erin Thames' three first half 3-pointers wiped out PV's last deficit of the game with 3:59 to go in the first quarter and Hilary Scacchetti's bucket in the post gave the Indians a 9-7 lead after the first quarter. They would never trail thereafter.
Thames hit a three to give PV its first double digit lead at 19-9, then hit another with 1:34 to go in the second quarter that made it 28-17. Five straight points by Caitlin Hyduke, who scored a team high 19 points and was named Rumson's MVP, got the Bulldogs to within 28-22 at the break and Carly Golden's 3-pointer to open the third quarter scoring had Rumson within three, but the next time down the floor, Zurich hit a pull-up jumper from the baseline and only heated up from there.
Zurich scored all 16 of PV's third quarter points and when she capped maybe the best eight minutes of basketball she has ever played with a baseline jumper to beat the buzzer, the Indians had a 46-34 lead and eight minutes left to savor a state championship game that was all but over.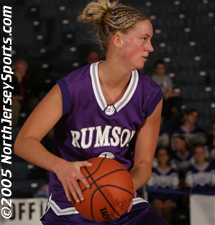 Carly Golden's three pointer to open the second half had Rumson to within three, but the Bulldogs could get no closer.
"When they talk about a player being in the zone, (Zurich) was just in the zone. She was just so fluid on everything," said Jasper. "Fluid on rebounding, passing, movement on the floor. She didn't even take a wasted dribble today. It was just Heather and it was like everyone else was just floating around her. That was special."
Zurich added 5 rebounds and 3 assists to her MVP performance and Thames finished with 11 points. Justine Miras, the third senior on PV's roster, also got heavy playing time in the second half and all three walked with Jasper to halfcourt to accept the school's first state championship trophy since 1989.
The next generation also played well for PV. Jessica and Rebecca Lynch (6 points) combined for 8 points, Scacchetti, despite foul trouble, finished with seven and freshman point guard Sara Ely finished with 5 points and piloted the offense perfectly in terms of getting Zurich the ball in the right spots.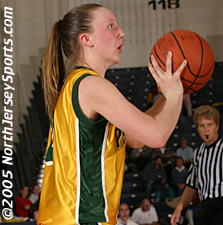 Freshman point guard Sara Ely is now a second generation state champion at Pascack Valley.
Ely, who at this time last year was putting the balls away after a middle school season, was just happy to be a part of a team that went from needing to replace four starters to one that has won 28 of its 29 games and is just one of six in the state of New Jersey with games left on its schedule.
"I didn't see any of this coming. Last year at this time I had no clue that this would happen," said Ely, the daughter of the abovementioned Laura Ely. "My mom played for Coach Jasper in high school, she's been through this and has really helped me because she knows so much about this team and the game. This has just been a great experience for all of us."
And it is not over yet. The Indians were seeded third in the Tournament of Champions and will play No. 6 Sacred Heart Academy in the first round on Wednesday in Toms River.
FOR MORE PHOTOS OF THIS EVENT OR TO PURCHASE A COLLECTOR'S PRINT OF THIS STORY, PLEASE VISIT THE NJS.com SCHOOL STORE!
---
NorthJerseySports.com Information Box:

| About Us | Contact Us | Home | Advertise |
Questions? E-mail the editor editor@northjerseysports.com
All contents © copyright 2002-2005 HSSportsWeb.com, Inc. All rights reserved.