Fetzer no longer a secret weapon
Monday, October 20, 2003
By Cory K. Doviak
NJS.com Editorial Director
Mike Mulanaphy's goal in the 64th minutes was the game-winner for Northern Highlands.
FRANKLIN LAKES -- At the beginning of this season Ken Fetzer was a backup stopper on the Northern Highlands boys soccer team. Last season he was a junior playing on the junior varsity level and before that he had not kicked a ball in anger since playing in a recreation league in third grade.
"I just never considered myself a soccer player," said Fetzer, who plays basketball and golf at the Allendale school. "I just decided to go out (for the soccer team) last year. I figured it would be fun and it would get me in shape."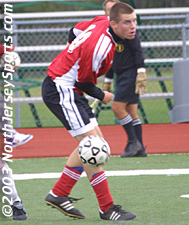 Ken Fetzer's hat trick gave hime 17 goals on the season.
What Fetzer's decision also did was help propel Northern Highlands (12-3) into the semifinals of Bergen County tournament. Now a starting forward and the Highlanders' leading goal scorer, Fetzer netted a hat trick as 12th seeded Highlands held off a furious Bergen Catholic comeback and posted a 4-2 win in Sunday afternoon's quarterfinal matchup.
"He's not a secret weapon anymore," said Northern Highlands head coach Al Mugno, speaking of Fetzer, who now has 17 goals on the season. "For a kid who has really only played for two years, he's got skills. He's impressive, you can't handle him. He's 6-foot-4."
Fetzer's first goal off a rebound gave Highlands the 1-0 lead it took into halftime and his second off a feed from Mike Mulanaphy gave his team a seemingly comfortable 2-0 lead with 10 minutes played in the second half.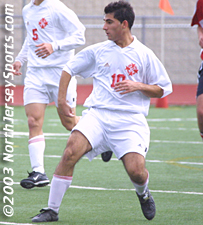 Askan Hamzelou got BC's comeback started with a goal in the 56th minute.
But after 56 minutes of offensive futility, Bergen Catholic suddenly found its touch and made the most of it. BC senior Ashlan Hamzelou got free at the top of the area and blistered a shot with his right foot inside the left post for the Crusaders' first goal. Just four seconds ticked off the game clock before Chris Griego sent in a long cross on the diagonal from 40 yards that landed on the head of Antonino DiMaggio, who flicked it home.
Less than 10 seconds after enjoying a two-goal lead, Northern Highlands found itself in a tie game. And four minutes later, third-seeded BC, had another chance when DiMaggio forced a turnover in the back and went in alone only to see his shot ring the outside of the near post.
"They came at us and that was a rough spot for us," said Mugno. "We weren't playing nice tight defense, we were giving them a lot of space and we let them control the play."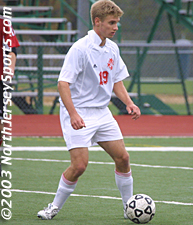 BC's Chris Greigo assisted on the game-tying goal.
But as quickly as it lost the momentum, Highlands found it and senior Miguel Ruiz was the catalyst. Ruiz, a skilled server of the ball, gained possession inside the 50 and pushed forward up the left side. With two defenders collapsing, Ruiz reversed the field with a long left footed cross to the opposite corner where Fetzer battled for and won a corner.
Ruiz then sent the restart into the box where Mulanaphy was the first to it. Mulanaphy headed home the game winner 15:42 to go in the game and Fetzer put the game away with a header in the 64th minute.
"The problem was we got in a hole and we used up too much (energy) getting back even and we didn't have enough left to finish it off," said Bergen Catholic head coach Jon Gray. "You can't play 20 minutes and expect to win, it's an 80 minute game for a reason."
After a heart-breaking overtime loss to eventual champion Don Bosco Prep in last season's quarterfinal, 11th seeded Highlands earned a berth in this year's semis where it will play NBIL rival Ramapo next Sunday at Northern Valley Demarest.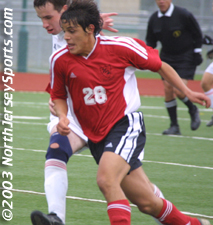 Miguel Ruiz help set up Northern Highlands' final two goals.
For Mulanaphy, who was involved in a controversial play in last season's loss to Bosco when he was taken down in the box with what was ruled a clean tackle late in the second half, the trip to the semis is an opportunity that he has been looking for the last year.
"It's great to be back and challenging for a title again. Crazy things happen in the Bergen County tournament," said Mulanaphy, who at 6-feet-4, gives the Highlanders an imposing presence along with Fetzer on set pieces in the area. "To come out here and beat a team like Bergen Catholic and move on, it's just a great feeling right now."
IN OTHER QUARTERFINAL ACTION: Unseeded Ridgewood pulled off its third straight 'upset' in the first of the four quarterfinals played at Ramapo High School on Sunday. After playing to a scoreless draw against Ramsey for the first half, Ridgewood's Diego Lopez put home the game's first goal midway through the second half.
Senior Brian Glennon scored his seventh goal of the tournament with less than two minutes to play as the Maroons posted a 2-0 win and earned a trip to the semifinals where they will take on two-time defending champion Don Bosco Prep, the top seed.
Bosco got to the semis with a 4-1 win over Demarest in Sunday's nightcap. Alex Louro and Steve Franchini each scored first half goals assisted by Eric Zekiroski.
Kellen Hayes scored unassisted for Demarest's lone goal, the first of the second half, before Brett Ferron and Tom Orbacz closed the scoring for Bosco.
For more pictures from this event or to purchase a Collector's Print, visit the NJS.com School Store!
---
NorthJerseySports.com Information Box:

| About Us | Contact Us | Home | Advertise |
Questions? E-mail the editor editor@northjerseysports.com
All contents © copyright 2001-2004 HSSportsWeb.com, Inc. All rights reserved.