Taylor leads HCA to landmark win
Wednesday, September 17, 2003
By Rich Barton
NJS.com Staff Writer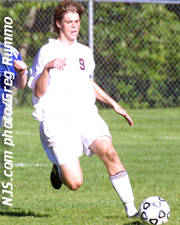 David Taylor scored twice as HCA beat rival Eastern Christian for the first time in four years.
HAWTHORNE - For nearly 70 minutes Hawthorne Christian Academy's David Taylor was frustrated as he was all but shut down by Eastern Christian stopper Dan Westra. Westra's physical play was effective as Taylor got off only a single shot on net over that span.
But with just over 15 minutes to go and Eastern Christian clinging to a 2-1 lead, Westra was given a yellow card and the complexion of the match turned immediately and led to a wild finish.
Taylor took a pass on the dead run from Keith Nye, split two defenders, and scored to give Hawthorne Christian a 3-2 lead with 14 minutes left. But Eastern Christian's Jay Everett answered inside of a minute later to tie the game at 3. Taylor had several chances over the next few minutes, before finally connecting on a rebound off of a corner kick with 2:24 remaining on the clock to give the Defenders a 4-3 victory over their archrival, their first victory over Eastern Christian in four years.
"I think people are going to start to take notice of us now," said Taylor, who has Seton Hall and Villanova among his suitors. "We knew Eastern Christian was aiming for us, but after the losses we've had to them in the last few years, it was using them as a measuring stick. We have to keep coming in hard and not let up, no matter who our opponent is."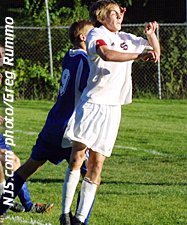 Despite suffering a shoulder injury, HCA's Keith Nyw was still able to net to goals.
The game, played in front of nearly 250 fans, featured a variety of offensive spurts beginning with the opening whistle with Nye cracking a shot on net less than 30 seconds into the contest. While both teams took a variety of long-range shots, the first legitimate opportunity to score came 14 minutes in when EC's Ryan Sloatmaker beat an offsides trap and went in on a breakaway. But the slippery track caused Sloatmaker to lose his footing in the shot and it went wide.
During the play where Sloatmaker broke free, Nye collided with an Eagle midfielder and dislocated his shoulder. That would severely limit the Hawthorne Christian attack and both defenses clamped down. It would be almost 25 minutes before another shot on net was taken. Jake and Jordan Minemma were the stalwarts for the Defenders, while Daryl Leegwater and Westra were equally as stingy on defense for EC.
Nye returned with 13 minutes remaining in the half and two minutes later get fouled inside the penalty area. The nagging pain was relieved temporarily as he drilled the PK past Eagles goaltender Scott Bushoven and right into the lower left-hand corner to give the Defenders a 1-0 lead.
Two minutes later, a sparkling play by Everett revived the Eastern Christian offense and tied the game in the process. Jake Minemma looked to clear the ball out of harm's way at midfield, but Everett hustled to block it and the ball caromed in front of him leading to a breakaway. HCA keeper Scott McGowan saved the initial shot, but it came right back to Everett, who tucked it home to make it 1-1.
Everett's hustle also resulted in the Eagles' second goal. He tracked down a loose ball and got off a shot that McGowan once again saved. The rebound did not go right back to him this time, but it did go right to teammate Tim Tanzola, who gave Eastern Christian a 2-1 lead at halftime.
The Defenders came out clicking on nearly all cylinders to start the second half, but despite applying pressure, they were not putting quality shots on net. HCA repeatedly got in close, but its first five shots of the half, all from within 18 yards, did not find the net.
Tanzola nearly gave the Eagles a commanding two-goal advantage when he rang the post on a breakaway with 20 minutes to go. Minutes later Westra committed a silly foul at midfield and was given a yellow card. The senior being sent off left a gaping hole in the middle and the Defenders capitalized on his absence.
Nye broke loose in the box and he once again drew a penalty, this time an obstruction call. As he stepped to the ball, the years of ineptitude against Eastern Christian was running through his mind and he wanted to make sure he had a hand in changing all of that.
"I felt if we kept coming at them that they would eventually break down," said Nye, who is being recruited by the University of Connecticut, amongst others. "We played so well in the second half and worked so hard to tie the game. The penalty kick was going to be a huge momentum boost either for us or for them. I knew where I wanted to go and just put the ball there."
He calmly walked up to the ball and deposited it into the upper right-hand corner for his second goal of the game, more importantly, tied the game at 2.
On the prettiest play of the contest, Nye would come out on a counterattack and feed Taylor on the run just over midfield. The 6-2 playmaker finally got the best of Westra, splitting him and another Eagle defender and beating Bushoven with 11:53 left to give the Defenders a 3-2 lead.
Westra did not wait long for revenge however; 53 seconds to be exact. He snuck up into the attack and feed Everett, who scored his second of the contest and knotted the score at 3.
"We played solid defense for a good part of the game, but when we had lapses they got to us," said Hawthorne Christian head coach Joe Bucci, who also serves as the school's Athletic Director. "We know we can score goals, but we certainly have to defend better. They have an entire new starting lineup and they could have folded when we went up 3-2. But my hat goes off to them. They just came right back at us and never quit. Overall, this game was a pleasure to watch."
Thirty seconds after Everett's second goal, Taylor made a nifty move around Westra and curled a shot off the crossbar that was cleared out of danger. Three minutes later, he beat two defenders down the left side just missed wide, hitting the side netting. Although time was running out, it seemed as if it was just a matter of time before Taylor scored. In fact it was.
After the Defenders earned a corner kick, Alex Ortega struck the ball well and forced Bushoven to come off of his line. The EC goalie could only get a fingertip on the ball and it bounced right to Taylor, who spun around and volleyed it home to send the crowd into a frenzy and make the score 4-3.
Eastern Christian eventually ran out of gas and time as well. The Eagles were not able to get off a shot after Taylor's goal and suffered their first loss of the season.
Taylor and Nye, both All-Passaic candidates, each netted a pair for Hawthorne Christian (2-0). Unfortunately, the schedule does not get any easier for the Defenders. They face Pompton Lakes, Manchester Regional, Garfield, Lodi, and PCT over the next two weeks.
Everett had his hand in all three of Eastern Christian's goals, netting two and assisting on the other to back Bushoven's eight-save performance.
"It's always tough when we play Hawthorne Christian and now they have experience on their side," said Eastern Christian head coach Pete DeGraff. "We have a young team and we have to learn yet how to hold a lead. We don't like to lose, but I'd rather lose a game like this making mistakes now early in the season."
To purchase a Collector's Print of this story, visit the NJS.com School Store!
---
NorthJerseySports.com Information Box:

| About Us | Sign Up Your School | Contact Us | Home | Advertise |
Questions? E-mail the editor editor@northjerseysports.com
All contents © copyright 2000-2003 HSSportsWeb.com, Inc. All rights reserved.